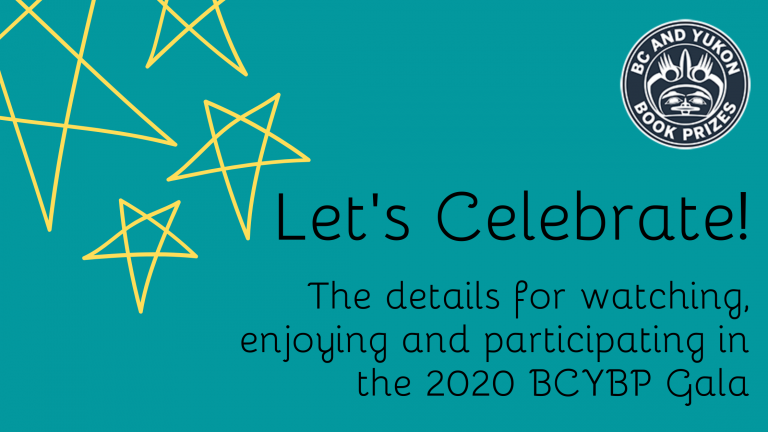 The 2020 BC and Yukon Book Prizes Gala is a unique event. It's our first attempt at an online presentation of the Prizes and we want to offer the finalists, publishers, and writing community as many options for viewing and/or participating in the event as possible.
The details are listed below. Please send any questions to megan@bcyukonbookprizes.com and we'll get back to you ASAP.
A Simple Guide to Viewing &/or Participating in the
2020 BCYBP Virtual Gala!
How to Watch the 2020 BC Yukon Book Prizes Virtual Gala
When: Saturday September 19th at 7PM
Where: bcyukonbookprizes.com or Facebook and Twitter.
What: The pre-recorded Gala will stream and can be watched on your computer, smartphone, or tablet.
The Gala will stream at 7PM and will then be available on our YouTube channel to be viewed at any time in the future.
Be sure to follow the hashtag #BCYBP2020 to follow the conversations on Twitter and Facebook throughout the night!
How to Participate in the Zoom Watch Celebration and Other Online Conversations
Our Zoom Watch Celebration will start at 6:30PM on Saturday September 19th and will give people from across BC, Yukon, and beyond a chance to gather, chat, show off their ostentatious formal attire (or fluffiest flannel PJs), catch up with friends, and share the excitement of the 2020 BCYBP Virtual Gala!
We will post the link across our social media channels and via our mailing lists on Saturday with plenty of time to spare.
The Zoom Celebration will be a place for folks from all over to gather and watch the streaming of the pre-recorded Gala together and have some fun. The chat feature will be in full effect and there will be prizes!
What's This About Prizes? That's right, we are giving away three full sets of winning titles in our annual Win the Winners Giveaway. We'll draw the winners from the list of people who use the #BCYBP2020 hashtag during the event. Only residents of BC and Yukon are eligible to receive these prizes.
What About the Hashtag #BCYBP2020 ? Use #BCYBP2020 on Twitter, Facebook, or Instagram to follow along with and/or participate in the discussions around the 2020 Gala. Post selfies in your finest threads, share your favourite books, cheer on your favourite authors, and celebrate the finalists and winners throughout the night.
Are Winners Expected to Give Speeches? We won't be asking winners to make speeches the night of the Gala. Winners can also hop over to Twitter, Instagram or Facebook to express themselves there. BC and Yukon Book Prizes staff will be in touch with the winners after the Gala to offer the opportunity to record a speech if the winner is interested. Winners will also be invited to participate in a conversation about their work on our podcast.
Should People Dress Up, Post Pictures, and Share in the Fun Online? 
Yes, absolutely, but none of this is required of anyone. If your ideal scenario is quietly watching the Gala with your friends and family that is totally fine! Participate and engage with the community as much or as little as you are comfortable with.
Will finalists be on camera? Finalists will only be on camera if they want to. We know this is not comfortable for everyone and so finalists should do what feels best at all times throughout the Gala. If you need to turn your camera off, please do that. This night is for you!
Have the winners been notified? None of the winners have been notified. They will find out during the Gala on Saturday, September 19th at 7 pm.
Breakdown of the Timeline for the Evening
6:30 pm: Zoom Watch Celebration Starts
7:00 pm: Pre-recorded Virtual Gala Starts
7:35 pm: Virtual Gala Concludes
8:00 pm (or later): Zoom Watch Celebration concludes