About BC and Yukon Book Prizes
Mission: To recognize and promote the achievements of the book community in BC and Yukon through the BC and Yukon Book Prizes and related programs.
The BC and Yukon Book Prizes, established in 1985, celebrate the achievements of British Columbia and Yukon writers, illustrators and publishers.
The 10 Prizes are presented annually at the BC and Yukon Book Prizes Gala and are administered and awarded by members of a non-profit society who represent all facets of the publishing and writing community.
We gratefully acknowledge the support of our many sponsors and supporters.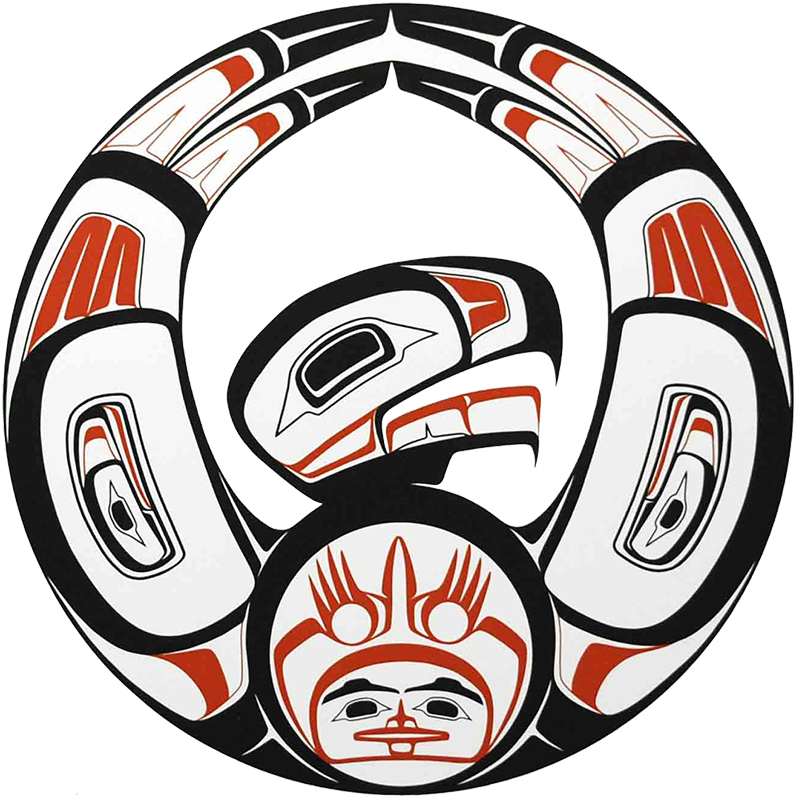 Logo motif from Eagle Full Circle by Roy Henry Vickers.
Eagle Full Circle
"It was back in the early '70s and I was spending much of my time studying my art and culture with Hilary Stewart and Wilson Duff. I loved being around the passion that Hilary had for acquiring knowledge of the cultures of the Pacific Northwest.
"Hilary was working with Wilson on Images Stone B.C., a beautiful book of stone carving on the northwest coast. During those years Hilary was also working on her books Artifacts of the Northwest Coast Indians and Indian Fishing. It was an honour to contribute a few designs to her book Looking at Indian Art of the Northwest Coast.
"When the book The World Is As Sharp As A Knife was being done I was asked to contribute a design to honour my friend Wilson Duff, and so Eagle Full Circle came to be. Later in the 1980s Hilary came to me and asked if she could use part of my design Eagle Full Circle. The woman in the centre of the eagle became the logo for B.C. Book Prizes.
"When I look back on those days I see no coincidence in my becoming a writer of stories and eventually books and am thankful to Hilary and Wilson and many others in the Royal B.C. Museum who mentored me during those early days of my career."
— Roy Henry Vickers, April 12, 2016