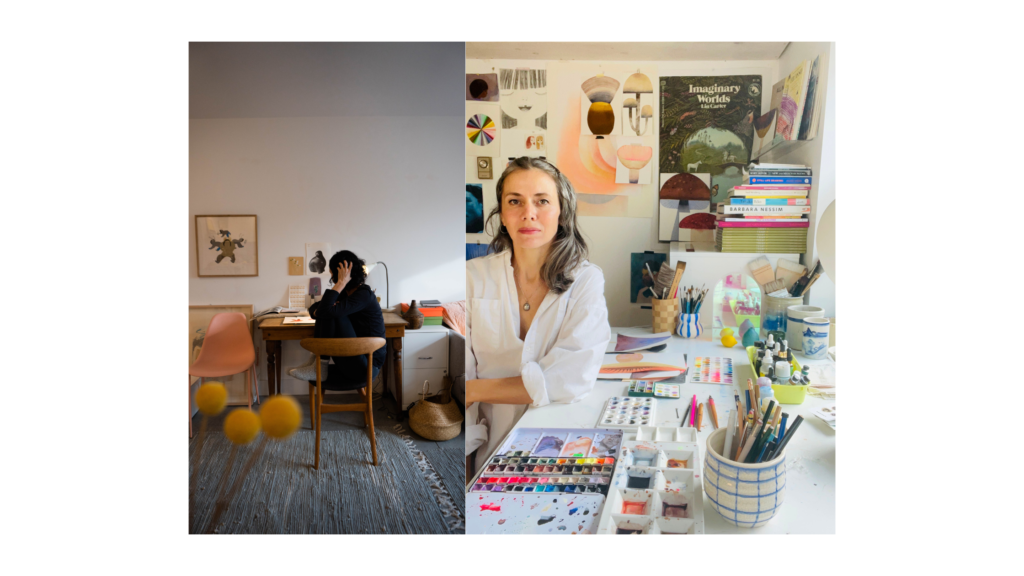 Julie Flett and Julie Morstad are the creators of many beautiful and enchanting picture books. Their books have been winners and finalists for the Christie Harris Illustrated Children's Literature Prize, including in 2022 when Julie Morstad's Time Is a Flower won the prize and On the Trapline, written by David A. Robertson and illustrated by Julie Flett was a finalist. The BC and Yukon Book Prizes asked Julie and Julie if they would have a chat with each other and share some of what inspires their work. This was their conversation: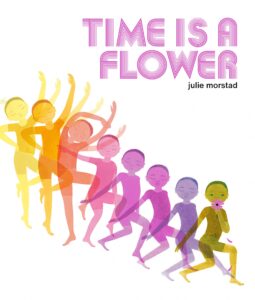 Julie Morstad: Lately I have been thinking about what it is that makes me want to make a book.
When I have a genuine inquiry about something, and I want to work it out, I tend to get really excited, and feel like this is the best point for me to start from when making my own books.
With Time is a Flower, I felt time was passing so quickly. It was pretty existential honestly! My kids growing up, and also getting older myself, made me want to almost pick time up like an object and look at it from every angle I could think of. I needed to dig in. Are you able to see any patterns in the things that excite you into leaping into an idea?
Julie Flett: When I started working on kids' books, I was learning about the languages that my grandparents had spoken, and I thought this was something I could share with kids and something I could contribute to my community through picture books. The first few books were introductory language books. As it went along, I realized that I was telling stories with pictures, almost haiku-like. "Three aunties laughing and eight uncles fishing" for the Cree counting book – and so many others. And from there, a lot of family stories started emerging. And I would say the theme of connection between people and the land and animals; landscapes, space and expansiveness seem to factor in, and as that goes along, it seems to go deeper into people's inner lives as inspired by people in my life (my son and nieces, family and myself). I love what filmmaker Agnes Varda said, "If we opened people up, we'd find landscapes."
JM: Yes! Her work is so inspiring. 
What makes a good work space for you? Are there things that make you more productive or less so? Or inspired?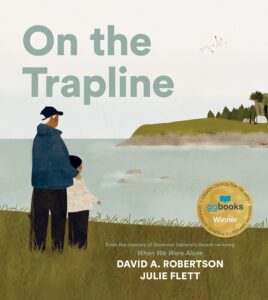 JF: We were talking about this the other day and I think we agreed, we both like working close to the kitchen and food. And just everything I need to make the day work, an extra sweater, or little inspirations all around.  Home is my favorite place to work when I'm illustrating, and for writing it varies, the library, my sofa, the river (one of the stories was written at the river this summer) and anywhere while waiting for my son (a few of them have been written this way). 
JM: Agreed. I like working from home for so many reasons.
It's nice to be able to wake up early on a Saturday and work on something before everyone gets up, and it's not even light out yet… it's cozy. Not to mention the close proximity to snacks, endless cups of tea and the very occasional nap.
What would your dream studio be if money or any other constraints were no object?
JF: Big windows, lots of windows, and a big worktable, a few work tables, three, or one long one. Windows that look onto trees. Lots of different materials to play with. I would love to build things and play more with materials. Oh, and an area to make animation. Of course, close to home or in my home, and with a kitchen.
JM: It would be so nice to spread out. My studio is a tiny room and I've had to become tidier to make it work but I really crave spreading out on multiple surfaces, and to just make a huge mess experimenting. But I do have lots of light so I'm grateful for that. 
I used to work in a bigger office type space here in Chinatown that only had one small skylight on which pigeons and seagulls were always walking around. That was fun but I'll take light over space if I have to choose!
If you and I could go draw together anywhere in the world for fun, where would you like to go?
JF: Baker Lake, Nunavut and the south of France.
JM: Yes! Imagine the great light for drawing… 
What is your relationship to drawing these days? Does it come easily, does it give you joy, is it tedious sometimes?
JF: It's all of this, it brings a lot of joy, I feel so lucky to be doing this work. I still feel challenged and still have a lot to work on and develop. It can also be tedious at times, some detailed work can be meditative, and some detailed work is just so hard that it becomes tedious, there are some long days where I push and push and sometimes the drawing doesn't work and it's hard on the spirit. But there's always the next day (or days) and that's often when it turns around and it's such a relief. 
JM: I agree. I also feel lucky to be doing this for a living. I find drawing quite hard some days –  I get rusty but also too hung up on the result and I get sort of stage fright (paper fright?).
When you develop an idea, do the words come first or the images, or some combination of the two?
JF: It's a combination of both. These days I start with the idea, and can see the images in my mind, and once I start getting the images down on paper, it changes a little and the words and story start to emerge more clearly.  
JM: What materials are you working with these days? And how has it changed over time?
 JF: I used to work less with drawing materials and more with collaged materials. 
Right now, I love working with pastels, but I do work with other materials, a bit of water colour, pencil crayon and pencil, and then I transfer everything over to the computer and collage everything together.  
I'm still learning as I go and have a lot more to learn. I often feel limited, but I also love learning new ways of drawing or working. I'm working on a book right now about skateboarding and have to draw bodies in intricate action, it's been a challenge but it's great, a lot of crumpled up drawings and making myself laugh but I'm working on a new drawing muscle and glad for this. What materials are you working with these days? 
JM: I started making watercolour paints last year and so I've been more into incorporating those into the book work. I have been doing a lot of monoprint and rolled textures and then also learning how to incorporate my pencil line and procreate into all of it… so I guess it's mixed media all the time basically. I'm always after texture and seem to get myself into increasingly complicated layers and processes to get that… I wish I could be simpler or more straightforward in my process, but it often feels like I'm putting a jigsaw puzzle together. Sometimes it's exhausting and sometimes it feels like magic.
I definitely have made things more complicated over time in my quest for texture and layers. I used to draw in pen and ink and light watercolour more… now I'm all over the place! 
JM: Who inspires you Julie F?
JF: I was raised around artists and makers of all ages. Lots of musicians, potters, painters, printmakers, and filmmakers. I didn't train as an illustrator, but I did go to art school and studied film, painting/studio, and textiles. I tend to be drawn to artists who work in these fields, filmmakers, textile artists, printmakers, and painters. Some of the artists who come to mind are Annie Pootoogook, Kenojuak Ashevak, Agnes Varda, Allen Sapp, and Ruth Asawa to name a few.  Connected to your first question and the patterns that show up, I love and relate to what Ruth Asawa said of her own work, "Art is doing. Art directly deals with life."
As for contemporary picture book makers, there are so many, Taro Gomi, Kazue Takahashi, Germaine Arnaktauyok, and Nahid Kazemi to name a few! 
JF: Oh Allen Sapp! I can see the shared sensibility there! Such beautiful work. 
I know you and I have a lot of overlapping inspiration. Kenojuak Ashevak, and Ruth Asawa both seemed to have been able to seamlessly weave motherhood and art into one thing. I'm sure it was always tricky for them too, but I love seeing the imagery and footage of them working with babies crawling around them. I've always been in awe of that and could also relate, although now it's juggling art with raising teenagers… 
Some more of my all time favourite art/book makers are Pitseolak Ashoona, Paul Klee, Jaqueline Ayer, Gyo Fujikawa, Ezra Jack Keats, the Provensens, Evaline Ness, Roger Duvoisin… ah, there's so many. Oh, and contemporary illustrators – there's so many good ones. The tenderness and fun, but also technical excellence and colour sense in Catia Chien's work always blow me away. 
***
Julie Flett, a Cree-Métis author, illustrator, and artist, has received numerous awards for her work, including a Governor General's Award and the American Indian Library Association Award. She is the author of many books, including Birdsong (Greystone Kids, 2019), winner of the 2020 TD Canadian Children's Literature Award, an American Indian Youth Literature Honor Book and Boston Globe Horn Book Title. Flett lives in Vancouver, Canada.
Julie Morstad is an award-winning author and illustrator. She has written the picture books Today and the Governor General's Literary Award finalist How To. Her beautiful illustrations can be found in numerous books such as It Began With a Page: How Gyo Fujikawa Drew the Way; Julia, Child; This Is Sadie and, most recently, Girl on a Motorcycle. In 2018 she designed a permanent stamp for Canada Post. Julie lives in Vancouver, British Columbia, with her family.