Registrations have closed.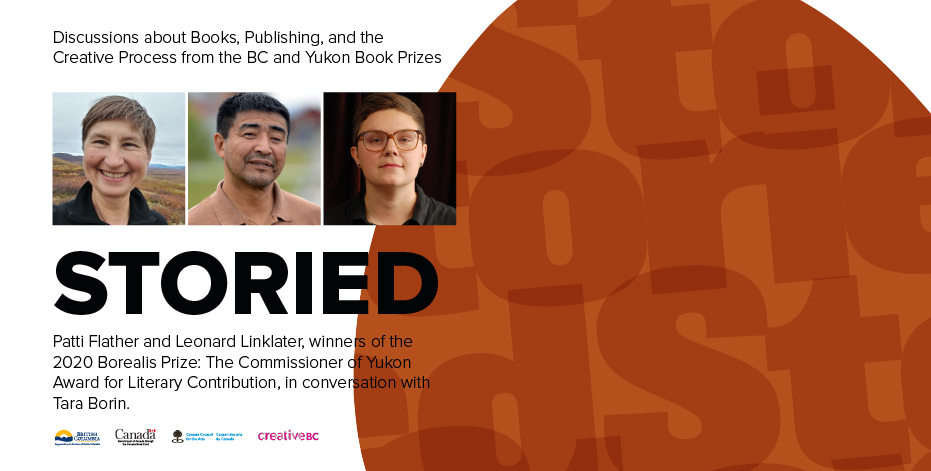 A Conversation with Patti Flather and Leonard Linklater, moderated by Tara Borin
348
348 people viewed this event.
Join the BC and Yukon Book Prizes as they present the Storied Series: Discussions on Books, Publishing and the Creative Process.
On Wednesday, June 23rd, 2021, featuring a conversation with Patti Flather and Leonard Linklater. In 2020, Patti and Leonard won the 2020 the Borealis Prize: The Commissioner of Yukon Award for Literary Contribution. Patti and Leonard will discuss writing and their work with Tara Borin, author of The Pit.
The event will begin at 7pm and finish at 8pm.
This is a free event but registration is required.
Funding for the Storied Series is thanks to Heritage Canada, Creative BC, the Government of BC and the Canada Council for the Arts.
More about Patti Flather, Leonard Linklater and Tara Borin:
Patti Flather is an award-winning playwright, theatre artist, writer and cultural producer. Her play Paradise toured nationally and is published with Playwrights Canada Press. A scene is featured in Refractions: Scenes, just released with PCP. Her other plays include Sixty Below, West Edmonton Mall, Where the River Meets the Sea, Street Signs (formerly The Soul Menders), and the devised work Map of the Land, Map of the Stars. Flather is a co-creator of Ndoo Tr'eedyaa Gogwaandak—Vuntut Gwitchin Stories radio plays in Gwich'in and English. Patti co-founded Gwaandak Theatre with her husband Leonard Linklater and is past Artistic Director; the company develops and shares Indigenous and Northern theatre stories. Patti's fiction has appeared in various literary journals; her collection Such A Lovely Afternoon is forthcoming in 2022. She's currently finishing Tomorrow Quilt, a pandemic audio play. A recipient of the Borealis Prize for Yukon literary contribution, Patti is a founding director of the new Yukon Words Society and editor of the PGC Women's Caucus newsletter. Patti has a Master of Fine Arts in Creative Writing from the University of B.C. and is an alumna of Humber School for Writers. She is a settler who grew up on the unceded territories of the Squamish, Tsleil-Waututh and Musqueam Nations in North Vancouver, B.C.. Patti has called the Yukon home for three decades, living with gratitude on the territory of the Kwanlin Dün First Nation and the Ta'an Kwäch'än Council. She is a proud member of Playwrights Guild of Canada, The Writers Union of Canada and Literary Managers & Dramaturgs of the Americas.
Leonard Linklater is a playwright and founding Gwaandak Theatre Co-Artistic Director, a journalist and host of CBC Yukon's Midday Cafe. A member of the Vuntut Gwitchin First Nation, he was born and raised in Inuvik, N.W.T. and is a co-creator of Ndoo Treedyaa Gogwaandak, including Ch'iitsii Khał Datl'oo / The Blue Cruiser, adapted from his godfather Stephen Frost's story. Leonard's first play Sixty Below received seven Dora nominations for its Toronto production (Native Earth). Justice was featured in Ottawa at the National Arts Centre's Northern Scene, fittingly, in an old courthouse. Leonard was a co-creator of Map of the Land, Map of the Stars. A participant in the 2019 Caravan Farm Theatre National Playwrights Retreat, he is currently working on a new play Treaties with his spouse Patti Flather. He is a member of Playwrights Guild of Canada.
Tara Borin is a poet and writer living in traditional Tr'ondëk Hwëch'in territory, Dawson City, Yukon. They are a graduate of Simon Fraser University's Writer's Studio Online. Tara's debut full-length poetry collection, The Pit, is out now with Nightwood Editions. Their work has also been anthologized in Best New Poets in Canada 2018 (Quattro Books) and Resistance (U of R Press), and in journals both in print and online. Find out more at taraborinwrites.com.