Registrations have closed.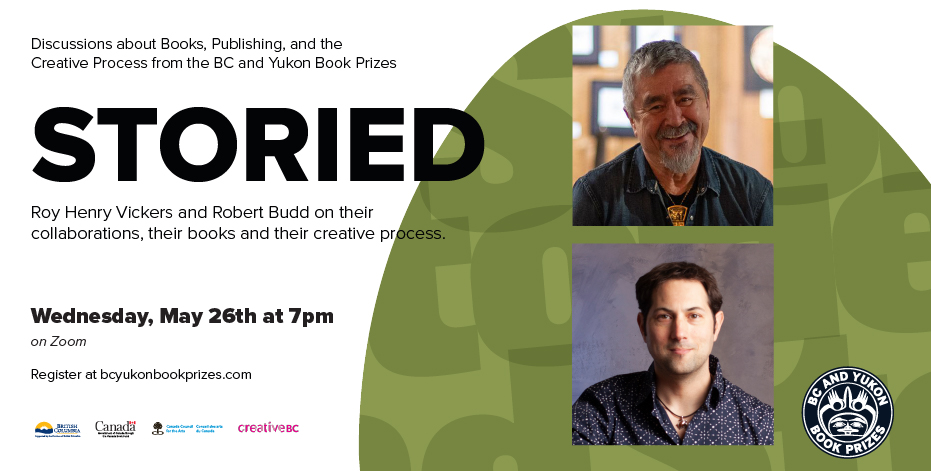 A Conversation with Roy Henry Vickers & Robert Budd, moderated by Sheryl MacKay
174
174 people viewed this event.
Join the BC and Yukon Book Prizes as they present the Storied Series: Discussions on Books, Publishing and the Creative Process.
On Wednesday, May 26th, 2021, featuring a conversation with Roy Henry Vickers and Robert Budd. Together this creative duo has produced 10 celebrated books for readers of all ages, including Raven Squawk, Orca Squeak which is a finalist for the 2021 Bill Duthie Booksellers' Choice Award. At this special Storied event the pair will talk about collaborating, creating their books and what their creative process looks like as they work together.
The event will begin at 7pm and finish at 8pm.
This is a free event but registration is required.
Funding for the Storied Series is thanks to Heritage Canada, Creative BC, the Government of BC and the Canada Council for the Arts.
***
About Roy Henry Vickers and Robert Budd:
Roy Henry Vickers is a renowned carver, painter, printmaker and storyteller. He is the illustrator and co-author of Harbour Publishing's popular children's First West Coast Book series and Northwest Coast Legends series, the latter of which were all shortlisted for the Bill Duthie Booksellers' Choice Award: Raven Brings the Light in 2014, Cloudwalker in 2015, Orca Chief in 2016 and Peace Dancer in 2017. His other books include Storyteller (Harbour Publishing, 2014) and Voices from the Skeena (Harbour Publishing, 2019). He lives in Hazelton, BC.
Robert (Lucky) Budd holds an MA in history and has digitized many high-profile oral history collections including that of the Nisga'a First Nation. He is the author of Voices of British Columbia (Douglas & McIntyre, 2010), a bestseller which was shortlisted for the 2011 Bill Duthie Booksellers' Choice Award, and its sequel, Echoes of British Columbia (Harbour Publishing, 2014). He currently lives in Victoria, BC.