Registrations have closed.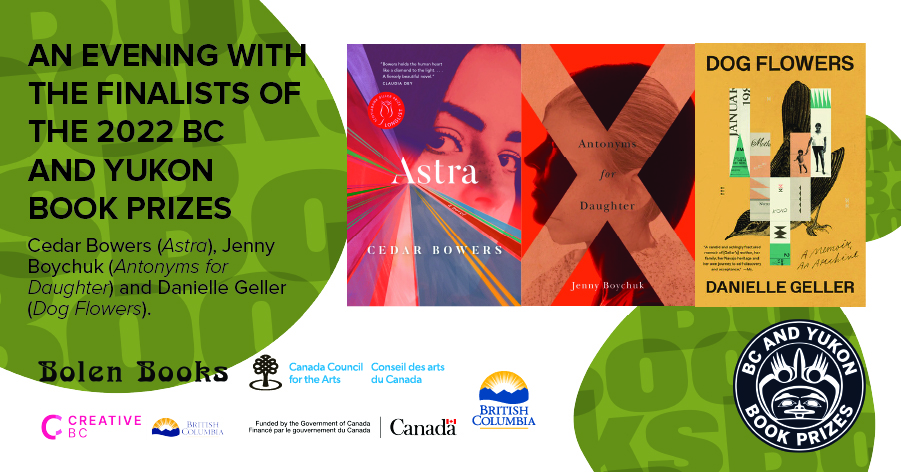 An Evening with Cedar Bowers, Jenny Boychuk and Danielle Geller
386
386 people viewed this event.
Join the BC and Yukon Book Prizes and Bolen Books on Friday, May 20th at 7pm for an in-person evening with the finalists of the 2022 BC and Yukon Book Prizes.
Cedar Bowers (author of Astra), Jenny Boychuk (author of Antonyms for Daughter), and Danielle Geller (author of Dog Flowers) will be reading from their shortlisted books at Bolen Books. They will also answer audience questions and will be available to sign copies of their books.
There will be ASL interpretation at this event.
This event will be recorded to be made available to the public following the in-person event.
Bolen Books is located in Hillside Shopping Centre at 1644 Hillside Avenue.
Funding for the this event is thanks to Heritage Canada, Creative BC, the Government of BC and the Canada Council for the Arts. The BC and Yukon Book Prizes is also grateful for the support of community partners like Bolen Books.
About the authors
Cedar Bower's fiction has been published in Joyland and Taddle Creek. Astra is her first novel. With her husband, novelist Michael Christie, and their two children, she divides her time between Galiano Island, where she grew up, and Victoria. Astra (published by McClelland & Stewart) is a finalist for the 2022 Ethel Wilson Fiction Prize.
Jenny Boychuk was born in New Westminster, British Columbia, and holds an MFA from the University of Michigan Helen Zell Writers' Program. Her poems and essays have appeared in The Walrus, CBC Books, Best New Poets 2016, The Malahat Review, The Fiddlehead,, Grain, The New Quarterly, PRISM international, among other publications. In 2018, she won the Copper Nickel Editors' Prize in Poetry. She is also the winner of the 2019 CBC Nonfiction Prize. She lives in Victoria, British Columbia. Antonyms for Daughters (published by Véhicule Press) is a finalist for the 2022 Dorothy Livesay Poetry Prize.
Danielle Geller is a writer of personal essays and memoir. She received her MFA in creative writing for nonfiction at the University of Arizona, and a Rona Jaffe Writers' Award in 2016. Her work has appeared in The New Yorker, Brevity, and Arizona Highways, and has been anthologized in This Is the Place. She lives with her husband and two cats in British Columbia, where she teaches creative writing at the University of Victoria. She is a member of the Navajo Nation: born to the Tsi'naajinii, born for the white man. Dog Flowers (published by One World) is a finalist for the 2022 Hubert Evans Non-Fiction Prize and the 2022 Jim Deva Prize for Writing that Provokes.