Registrations have closed.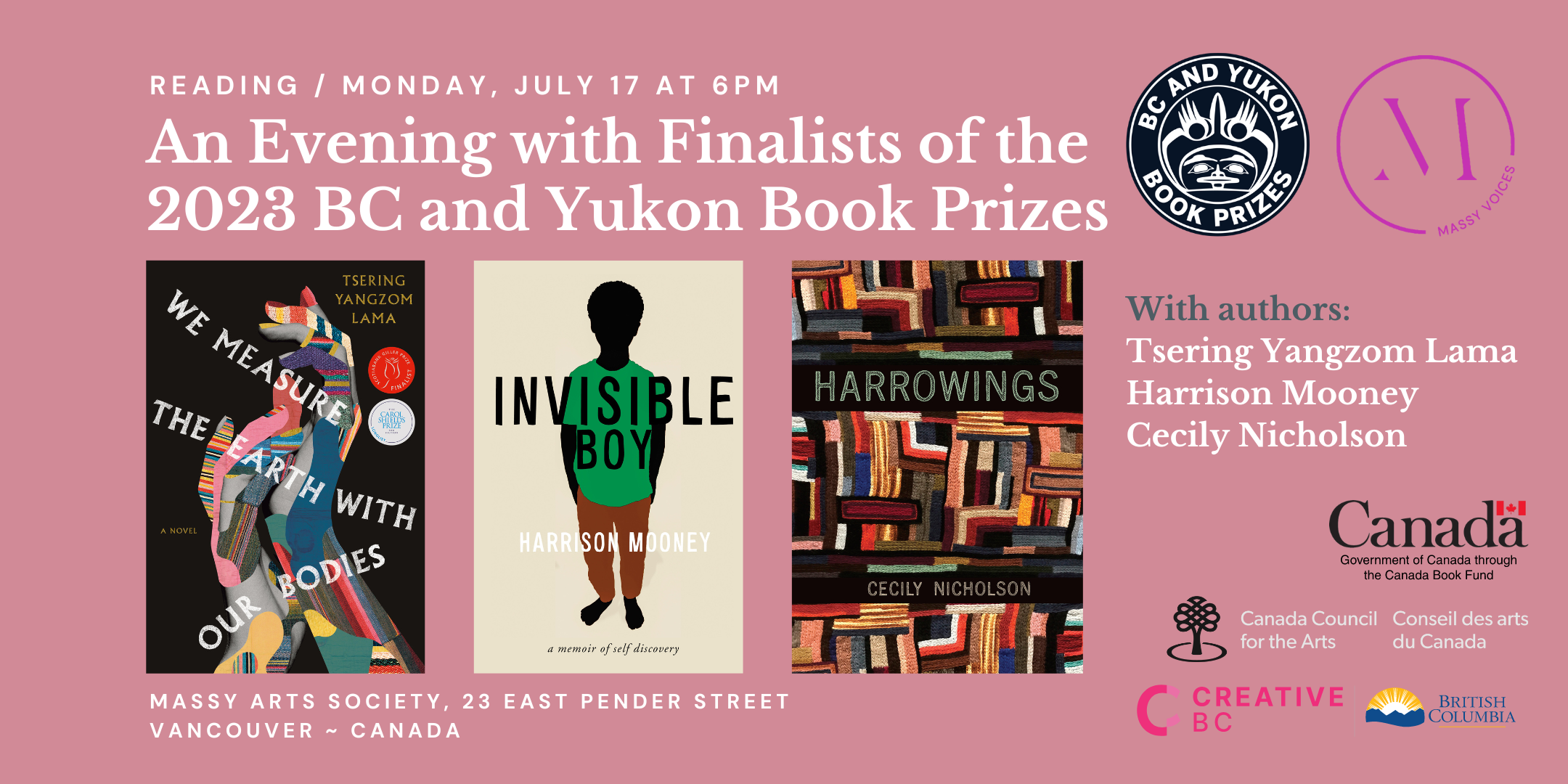 An Evening with Finalists of the 2023 BC and Yukon Book Prizes
236
236 people viewed this event.
On Monday, July 17th at 6pm, join Massy Arts, Massy Books, and BC and Yukon Book Prizes for a literary evening with three finalists of the 2023 BC and Yukon Book Prizes: Tsering Yangzom Lama, Harrison Mooney, and Cecily Nicholson.
The in-person event will feature readings of the We Measure the Earth with our Bodies (McLelland and Stewart, 2022), Invisible Boy (HarperCollins 2022), and Harrowings (Talonbooks, 2022) followed by a Q&A session with the audience.
For more information or to register visit: https://www.eventbrite.ca/e/an-evening-with-finalists-of-the-2023-bc-and-yukon-book-prizes-tickets-658086523507
This project has been made possible by the Government of Canada. Ce projet a été rendu possible grâce au gouvernement du Canada.
Venue & Accessibility
The event will be hosted at the Massy Arts Gallery, at 23 East Pender Street in Chinatown, Vancouver.
Registration is free, open to all and required for entrance. The gallery is wheelchair accessible and a gender-neutral washroom is on-site. Please refrain from wearing scents or heavy perfumes.
For more on accessibility including parking, seating, venue measurements and floor plan, visit: massyarts.com/accessibility
This event will have ASL interpretation.
Covid Protocols: Masks keep our community safe and are mandatory (N95 masks are recommended as they offer the best protection). We ask if you are showing symptoms, that you stay home. Thank you kindly.
About the books and authors
We Measure the Earth with Our BodiesFor readers of Homegoing and The Boat People, a compelling and profound debut novel about a Tibetan family's journey through exile.
In the wake of China's invasion of Tibet throughout the 1950s, Lhamo and her sister, Tenkyi, arrive at a refugee camp on the border of Nepal, having survived the dangerous journey across the Himalayas into exile when so many others did not. As Lhamo—haunted by the loss of her homeland and her mother, the village oracle—tries to rebuild a life amid a shattered community, hope arrives in the form of a young man named Samphel and his uncle, who brings with him the ancient statue of the Nameless Saint, a relic long rumoured to vanish and reappear in times of need.
Decades later, the sisters are separated, and Tenkyi is living with Lhamo's daughter, Dolma, in Toronto's Parkdale neighbourhood. While Tenkyi works as a cleaner and struggles with traumatic memories, Dolma vies for a place as a scholar of Tibetan Studies. But when Dolma comes across the Nameless Saint in a collector's vault, she must decide what she is willing to do for her community, even if it means risking her dreams.
Breathtaking in scope and powerfully intimate, We Measure the Earth with Our Bodies is a gorgeously written meditation on colonization, displacement, and the lengths we'll go to remain connected to our families and ancestral lands. Told through the lives of four people over fifty years, this beautifully lyrical debut novel provides a nuanced portrait of the world of Tibetan exiles.
Tsering Yangzom Lama holds a BA in creative writing and international relations from the University of British Columbia, and an MFA from Columbia University. Born and raised in Nepal, Lama has lived in Toronto, New York City, and Vancouver, where she now resides. We Measure the Earth with Our Bodies is her first novel, and it was shortlisted for the Scotiabank Giller Prize, and longlisted for the Center for Fiction First Novel Prize, the Toronto Book Award, and the Carol Shields Prize for Fiction.
Invisible Boy A narrative that amplifies a voice rarely heard—that of the child at the centre of a transracial adoption—and a searing account of being raised by religious fundamentalists
Harrison Mooney was born to a West African mother and adopted as an infant by a white evangelical family. Growing up as a Black child, Harry's racial identity is mocked and derided, while at the same time he is made to participate in the fervour of his family's revivalist church. Confused and crushed by fundamentalist dogma and consistently abused for his colour, Harry must transition from child to young adult while navigating and surviving zealotry, paranoia and prejudice.
After years of internalized anti-Blackness, Harry begins to redefine his terms and reconsider his history. His journey from white cult to Black consciousness culminates in a moving reunion with his biological mother, who waited twenty-five years for the chance to tell her son the truth: she wanted to keep him.
This powerful memoir considers the controversial practice of transracial adoption from the perspective of families that are torn apart and children who are stripped of their culture, all in order to fill evangelical communities' demand for babies. Throughout this most timely tale of race, religion and displacement, Harrison Mooney's wry, evocative prose renders his deeply personal tale of identity accessible and light, giving us a Black coming-of-age narrative set in a world with little love for Black children.
Harrison Mooney is a writer and journalist. Born to a West African immigrant mother, he was adopted as an infant by a white family and raised in the Bible belt of British Columbia. He has worked for the Vancouver Sun for nearly a decade as a reporter, an editor and a columnist. His writing has also appeared in the National Post, the Guardian, Yahoo and Maclean's. Harrison Mooney lives in East Vancouver with his family.
HARROWINGS takes place mainly in the rural and reconnects with a history of Black intellectual and artistic history in relation to agriculture. The poems include pulses of memoir from the poet's childhood growing up in the country on a farm. These experiences connect to her volunteer work during the recent pandemic, on a local "prison farm" – an agricultural enterprise whose leadership includes people who were formerly incarcerated. Considering movements organizing for food security, and related, resurgent practices, HARROWINGS addresses the work of cultivation. Underlying references include almanacs and Anglo idioms, drawing upon tabular information, weather, and the workings of the sun, moon, and points of stars as may be practical in relation to a localized, growing year. The poems refuse the romance of husbandry, cultivation, and predictive customs. Understanding "the farm" as a tract of colonial advance – tropes of charming and white, tradition and supremacy, are confronted in a study of biome, water, soil, and seed. With love, despite episodic and chronic illness, duress, and dissociative relationships to time – the poetry advances by way of practical tasks such as watering, weeding, and sowing toward abolitionist futures.
Cecily Nicholson is from rural, small-town Ontario via Toronto and South Bend, relocated to the Pacific Coast now almost two decades. On Musqueam-, Squamish-, and Tsleil-Waututh-occupied lands known as Vancouver, she worked for many years in the Downtown Eastside neighbourhood. A part of the Joint Effort prison abolitionist group and a member of the Research Ethics Board for Emily Carr University of Art and Design, Cecily was also the 2017 Ellen Warren Tallman Writer in Residence at Simon Fraser University. She is the author of Triage, From the Poplars, winner of the 2015 Dorothy Livesay Poetry Prize, and Wayside Sang, winner of the 2018 Governor General's Literary Award for English-Language Poetry.