Registrations have closed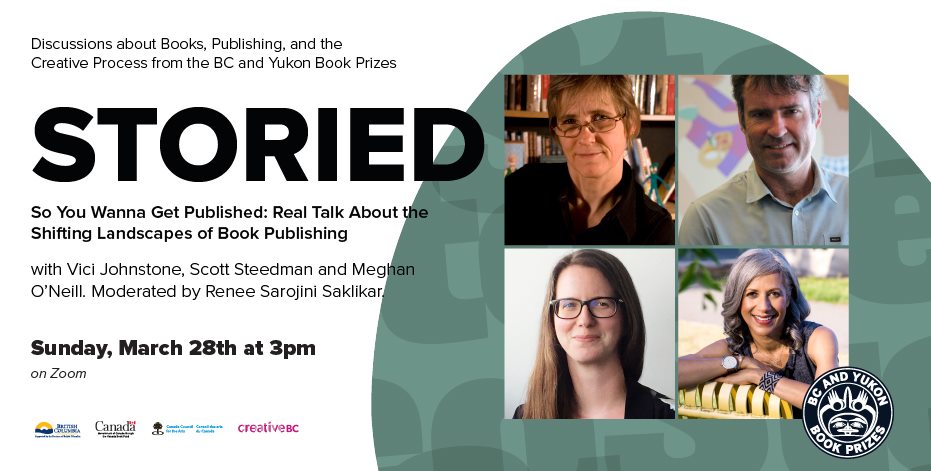 So You Wanna Get Published: Real Talk About Book Publishing
103
103 people viewed this event.
Join the BC and Yukon Book Prizes as they present the Storied Series: Discussions on Books, Publishing and the Creative Process.
On Sunday, March 28th, 2021, Vici Johnstone, publisher at Caitlin Press, Scott Steedman, editor and publishing consultant, and Meghan O'Neill, marketing strategist at Page Two Books will discuss the changing landscape of book publishing with moderator Renee Sarojini Saklikar.
The event will begin at 3pm and finish at 4pm.
Funding for the Storied Series is thanks to Heritage Canada, Creative BC, the Government of BC and the Canada Council for the Arts.
***
About our presenters:
Vici Johnstone has worked in media and entertainment for more than thirty-five years. She started her career as a sound technician and roadie for the local stagehand's union in Vancouver. In 1984 she moved to Banff and then Calgary, working for local regional theatres. In 1989, she joined CBC and continued to work in sound production, and also wrote and produced two mini documentaries for CBC Radio in Alberta. After ten years in radio and television, Johnstone went back to school, acquiring a diploma from the Applied Multimedia Training Centre in Alberta. Upon returning to BC in 1999, she began working as a producer for Basis Applied Technology where she managed projects for The Learning Company, Disney Interactive and Mattel Interactive. In 2002, Harbour Publishing hired her to work first as their production manager, and then as general manager.
In 2008, Vici bought Caitlin Press, seeking to reinvigorate the press. Under Johnstone's leadership, Caitlin Press remains committed to its feminist origins and BC roots, while expanding the catalogue to reflect the diverse cultures and histories of the province. In 2015, Johnstone received the Jim Douglas Publisher of the Year Award from the Association of Book Publishers of British Columbia, which honours an individual for their extraordinary contribution to the BC publishing community and their commitment to excellence in publishing. Caitlin Press publishes bold works by and about BC women for a local and national readership, and culturally significant nonfiction books from unique perspectives. In 2016, Johnstone launched Dagger Editions, an imprint of Caitlin Press for the voices and stories of queer women (those who identify as queer women, including trans women or trans men, or anyone who includes this in their personal history).
Scott Steedman is an editor and publishing consultant. He has been working in publishing for more than 30 years and has conceived, imagined, structured and edited hundreds of published books for some of the biggest publishers in the UK, France and Canada, and for organizations as varied as the British Museum, the Musée d'Orsay, the Canadian Museum of Civilization, the Haida Nation and the Toronto Maple Leafs. His roles include Editor at Dorling Kindersley, London (1989–95), Senior Editor at Larousse, Paris (1995–2001), Editorial Director, Non-Fiction at Raincoast Books, Vancouver (2001–2004) and Associate Publisher at Douglas & McIntyre, Vancouver (2004–2008). He is a Lecturer at the Publishing department at Simon Fraser University, Vancouver.
A marketing strategist for Page Two Books,
Meghan O'Neill
is an avid booknerd and able mountain biker who has yet to successfully combine her passions (despite many scraped knees and ripped pages). In her past life, Meghan held various roles in the media industry as an assistant publisher for a digital magazine and in advertising with a national newspaper network. Currently pursuing a PhD in publishing, Meghan also holds an MFA in creative writing, a diploma in publishing as well as a BA in international relations (phew!). Meghan's future goals include: putting away her laundry, learning how to change a bike tire, and finishing her current book. You can find her online at 
meghankoneill.com.
Renée Sarojini Saklikar
's ground-breaking poetry book about the bombing of Air India Flight 182, children of air india, won the Canadian Authors Association Poetry Prize and was shortlisted for the Dorothy Livesay Prize. Her book, Listening to the Bees, co-authored with Dr. Mark Winston, won the 2019 Gold Medal Independent Publishers Book Award, Environment/Ecology.
Trained as a lawyer, Saklikar is an instructor for SFU and VCC. She was the first Poet Laureate for the City of Surrey, (2015-2018) and was the 2017 UBC Okanagan Writer in Residence. Curator of the poetry series Lunch Poems at SFU, and The Poetry Phone (1-833-POEMS-4-U), her work has been adapted for opera, visual art and dance. THOT J BAP is her sci-fic poetry epic, ten years in the making: book one, Bramah and the Beggar Boy, forthcoming from Nightwood editions in 2021. 
https://harbourpublishing.com/products/9780889714021