Registrations have closed.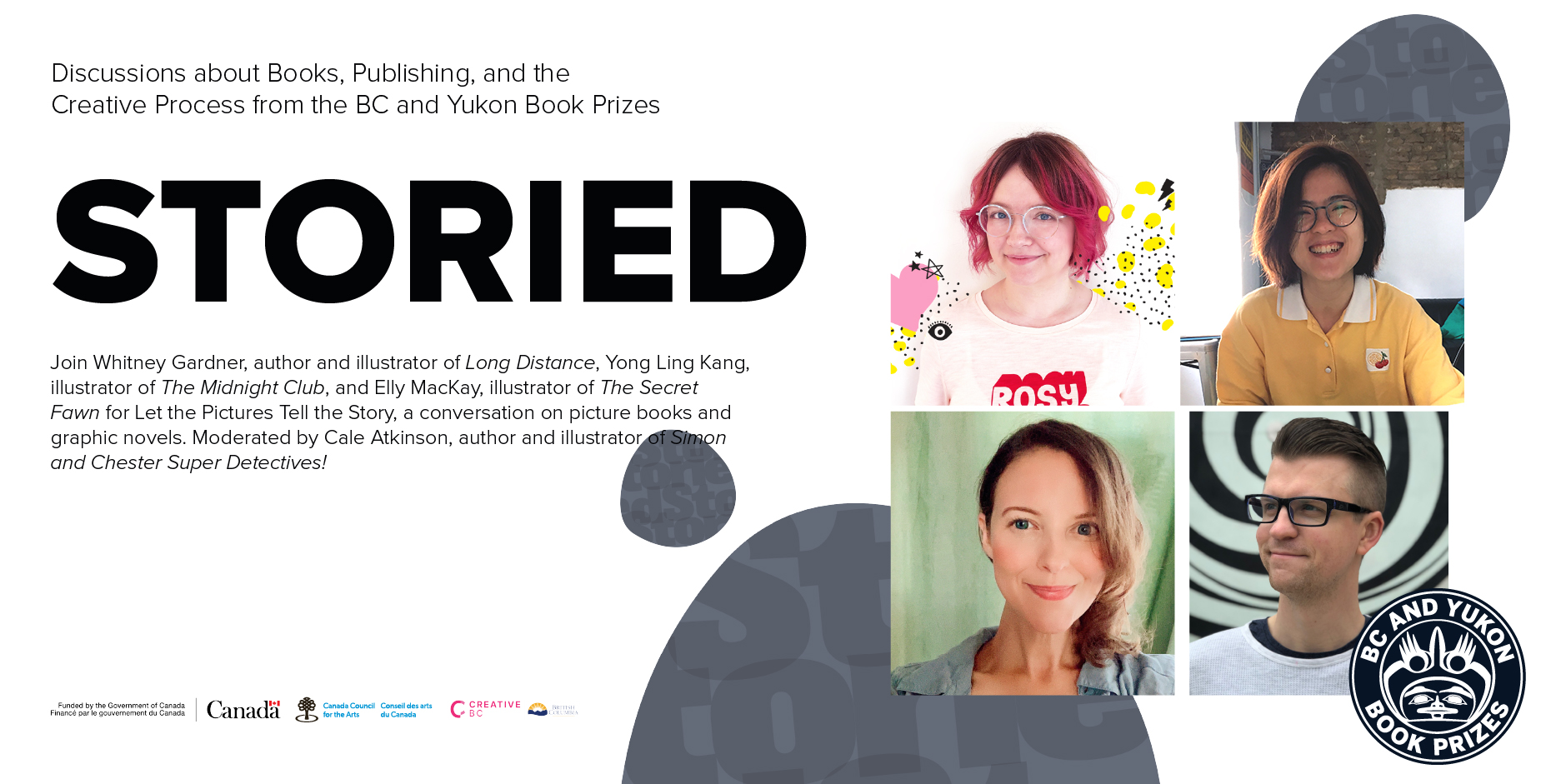 Storied: Let the Picture Tell the Story
687
687 people viewed this event.
Join the BC and Yukon Book Prizes for Storied: Discussions on Books, Publishing, and the Creative Process.
On Wednesday, August 31st, 2022, Whitney Gardner, author and illustrator of Long Distance, Yong Ling Kang, illustrator of The Midnight Club, and Elly MacKay, illustrator of The Secret Fawn, will be part of a discussion on picture books and graphic novels titled "Let the Picture Tell the Story". This discussion will be moderated by Cale Atkinson, author and illustrator of Simon and Chester Super Detectives! Long Distance, The Midnight Club, and The Secret Fawn are finalists for the 2022 Christie Harris Illustrated Children's Literature Prize.
The event begins at 7 pm (PT).
This is a free event, but registration is required.
Funding for the Storied Series is thanks to Canada Book Fund, Creative BC, the Government of BC and the Canada Council for the Arts.
About the panelists and moderator:
Whitney Gardner is an author, illustrator, and cartoonist living by the Salish Sea with her husband and two pugs. She started drawing stick figures in second grade and somehow no one's been able to stop her. If there's ever a moment when she isn't drawing she's likely to be found baking, tending to her many houseplants, or rolling twenty-sided dice. Her favorite color is, and always will be, yellow. She is the author of the YA novels You're Welcome, Universe and Chaotic Good, as well as the creator of Fake Blood and Long Distance and the illustrator for Debbie Levy's Becoming RBG.
Yong Ling Kang is an illustrator who grew up in Singapore and is now based in Toronto, Ontario. She has illustrated several picture books, including This House Is Home, William's Getaway, and Tanna's Owl.
Elly MacKay is an acclaimed paper artist and children's book author and illustrator. She wrote and illustrated the picture book Red Sky at Night, as well as Waltz of the Snowflakes, If You Hold a Seed and Butterfly Park, among others. Elly's art was also featured on the covers of Tundra's reissues of L. M. Montgomery's Anne of Green Gables and Emily of New Moon series. Her distinctive pieces are made using paper and ink, and then are set into a miniature theater and photographed, giving them their unique three-dimensional quality. She frequently collaborates with author Kallie George and their first picture book together is The Secret Fawn. Elly lives in Owen Sound, Ontario, with her two children.
Cale Atkinson is an award winning author and illustrator currently residing in Kelowna, Canada.
You can usually find him up late drawing and watching cartoons. He is assisted in his artistic endeavors by Charlie, a wise and noble floof. His work can be found in animated shorts, television, games and children's books including To the Sea, Explorers of the Wild, Where Oliver Fits,Off and Away, Sir Simon: Super Scarer, and the Simon and Chester series.