Registrations have closed.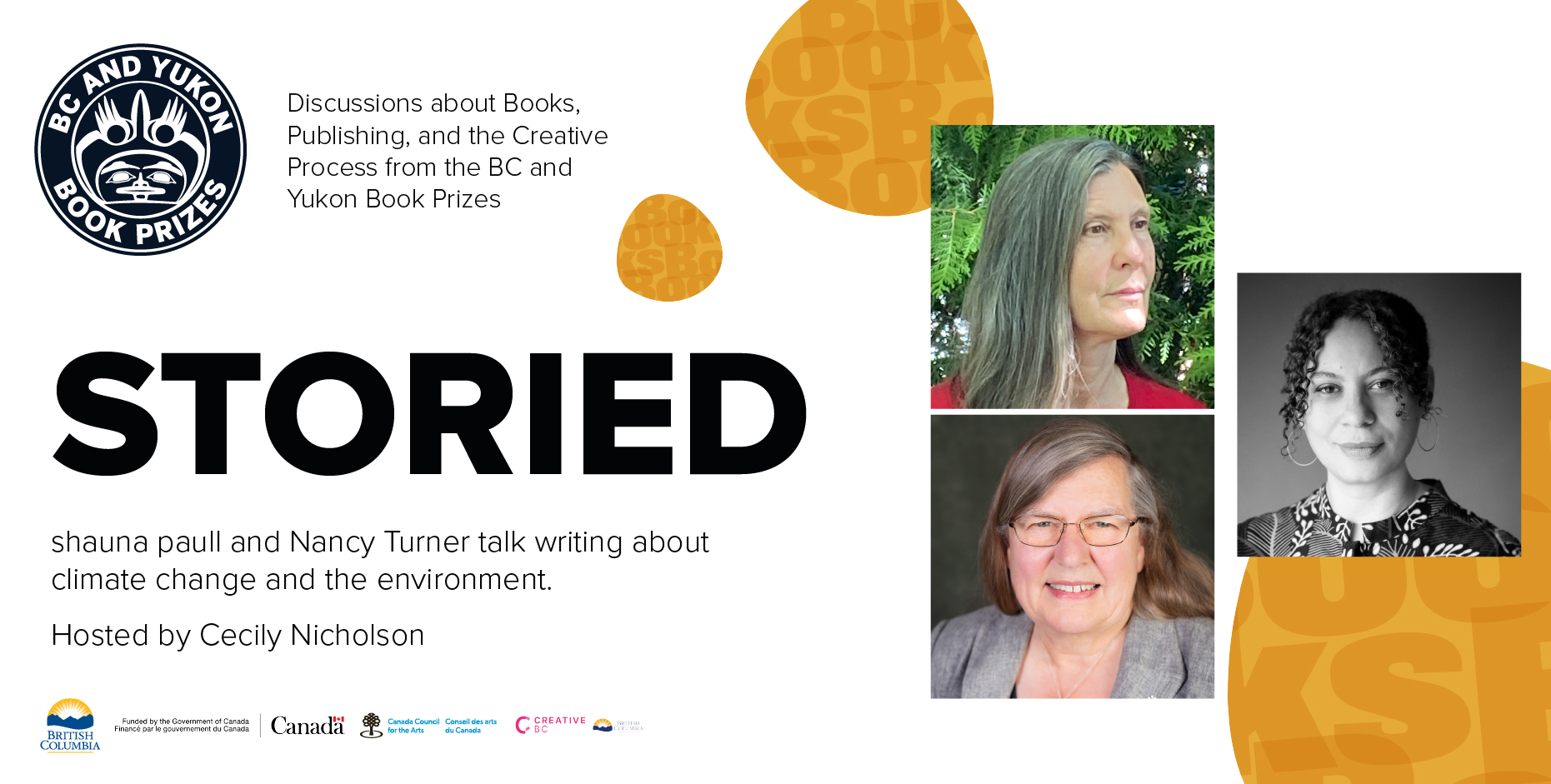 Storied: On Writing about Climate Change and the Environment with shauna paull and Nancy Turner
369
369 people viewed this event.
Join the BC and Yukon Book Prizes for Storied: Discussions on Books, Publishing, and the Creative Process.
On Wednesday, June 22nd, 2022, shauna paull, author of blue gait, and Nancy J. Turner, co-author of Luschiim's Plants, will discuss writing about climate change and the environment. This discussion will be moderated by Cecily Nicholson, author of From the Poplars, which won the 2015 Dorothy Livesay Poetry Prize. paull's book blue gait is a finalist for the 2022 Dorothy Livesay Poetry Prize, and Luschiim's Plants is a finalist for the 2022 Roderick Haig-Brown Regional Prize, and the 2022 Bill Duthie Booksellers' Choice Award. 
The event begins at 7 pm (PT).
This is a free event, but registration is required.
Funding for the Storied Series is thanks to Canada Book Fund, Creative BC, the Government of BC and the Canada Council for the Arts.
About the panelists and moderator:
shauna paull is a poet, educator and community advocate, and completed her MFA in Creative Writing at UBC. blue gait is her 2nd book of poetry, her first book, roughened in undercurrent was published by Leaf Press (2008). Shauna has led creative writing workshops at the Shadbolt Centre for the Arts on the ancestral and unceded territories of the Tsleil-Waututh First Nation, since 2000 and for many different organizations in Vancouver. She currently the coordinates the Deer Lake Artist Residencies for the city of Burnaby. In community, shauna has worked extensively with migrant and refugee women in areas of labour and mobility rights, poverty alleviation and legislative reform. Shauna represented Canada at the UN Commission on the Status of Women in 2006. Her work can be found in RockSalt, an Anthology of Contemporary BC Poetry (Mother Tongue, 2008) Forcefield: 77 Women Poets of British Columbia (Mother Tongue, 2013) and In All the Spaces: Diverse Voices in Global Women's Poetry, (Autopress, New Delhi, 2020). She lives in Vancouver.
Nancy Turner is a Distinguished Professor Emerita in Environmental Studies, University of Victoria. She is an ethnobotanist who has worked with Indigenous elders and cultural specialists in western Canada for over 50 years, learning about traditional knowledge of plants and environments. She has authored or co-authored/co-edited over 30 books and over 150 book chapters and papers, and has received a number of awards for her work, including Order of Canada, Order of British Columbia, and fellowship in the Royal Society of Canada, as well as honorary degrees from four BC universities.
Cecily Nicholson is the author of four books, and past recipient of the Dorothy Livesay Poetry Prize and the Governor General's Literary Award for poetry. Her forthcoming HARROWINGS considers Black rurality, agriculture, and art history. Nicholson's poetry, photography, and essays have appeared in magazines, journals, and catalogues, and includes commissions from Woodland Pattern Book Center Milwaukee, New York University's Tisch School of the Arts, Holloway Series in Poetry UC Berkeley, as well as in local, municipal, and university galleries. Cecily has held the Ellen and Warren Tallman Writer in Residence at SFU (2017), and Writer in Residence at the University of Windsor (2021).