Registrations have closed.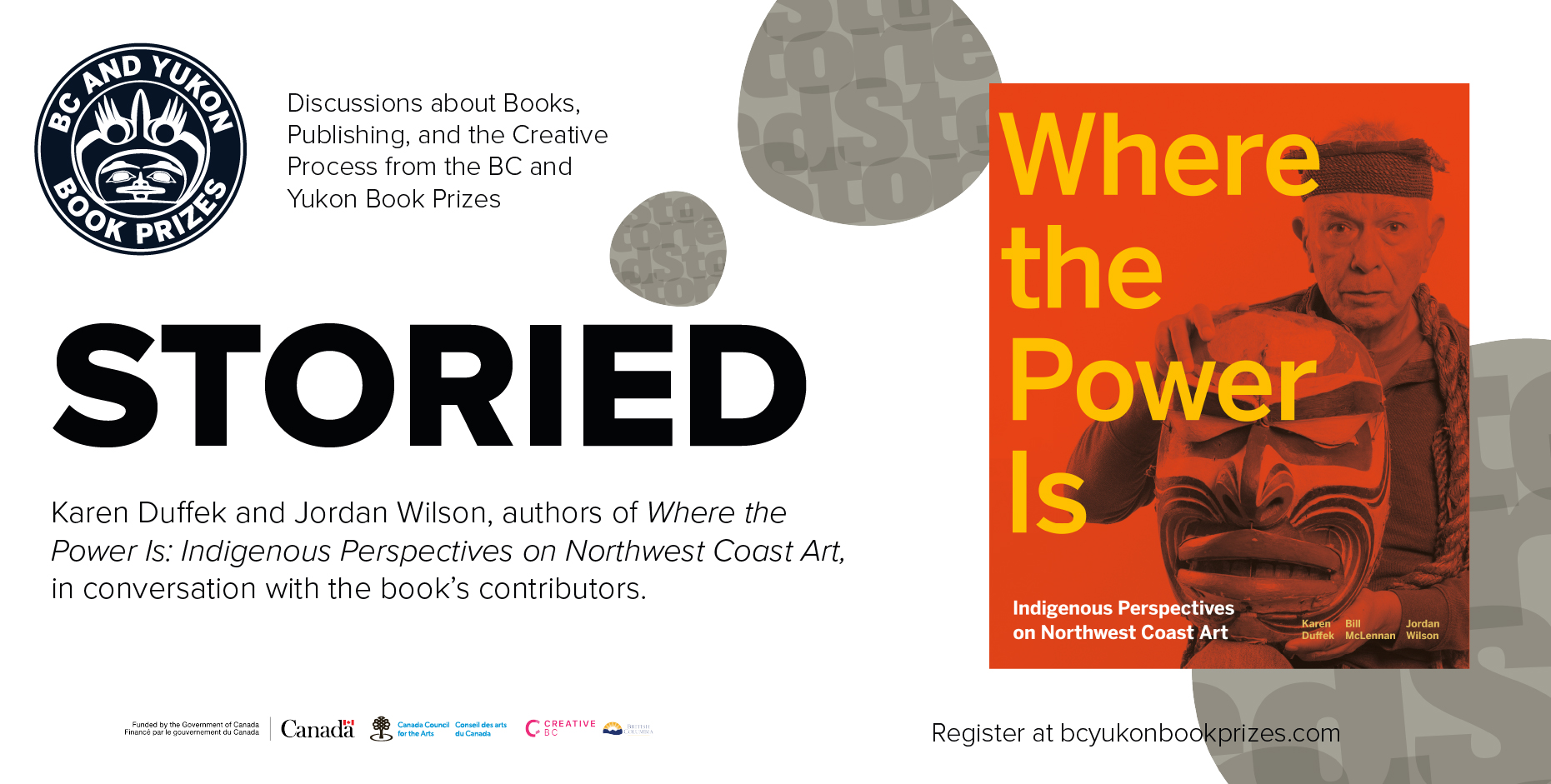 Storied: Where the Power Is with Karen Duffek and Jordan Wilson, and artists Ian Reid and Tsēmā Igharas
560
560 people viewed this event.
Join the BC and Yukon Book Prizes for Storied: Discussions on Books, Publishing, and the Creative Process.
On Wednesday, November 23rd, Karen Duffek and Jordan Wilson, authors of Where the Power Is: Indigenous Perspectives on Northwest Coast Art will discuss the book, the art, and the important conversations had on the page about art, artifact, decolonization, and more. Karen and Jordan will be joined by artists Ian Reid and Tsēmā Igharas. Where the Power Is is a finalist for the 2022 Roderick Haig-Brown Regional Prize.
The event begins at 7 pm (PT).
This is a free event, but registration is required.
Funding for the Storied Series is thanks to Canada Book Fund, Creative BC, the Government of BC and the Canada Council for the Arts.
About the guests:
Karen Duffek is the Curator of Contemporary Visual Arts and Pacific Northwest at MOA. Committed to supporting the activation of Northwest Coast Indigenous collections inside and outside the museum, her research, exhibitions, and publications focus on the relationships between historical and contemporary art practices, museum collections, communities, and art markets.
Jordan Wilson is a Musqueam curator, writer, and PhD student in Anthropology at New York University. He has published on Musqueam and contemporary Indigenous art, and has co-curated two exhibitions at MOA: cəsnaʔəm, the city before the city (2015) and In a Different Light: Reflecting on Northwest Coast Art (2017).
Tsēmā is an interdisciplinary artist and member of the Tahltan Nation. She uses Potlatch methodology to create conceptual artwork and teachings influenced by her mentorship in Northwest Coast Formline Design at K'saan (2005/06), her studies in visual culture, and time in the mountains. She has a Bachelor's degree from Emily Carr University of Art and Design (2011) and graduated from the Interdisciplinary Master's in Art, Media and Design program at OCADu showing her thesis work, LAND|MINE that connects materials to mine sites and bodies to the land. Tsēmā has won the 2018 Emily Award for outstanding ECUAD alumni; is 1/25 2020 Sobey award winners; has shown and performed in various places in Canada and internationally in Sweden, Mexico, USA and Chile.
Ian Reid's crests are Eagle and Killerwhale. He signs his pieces with his Heiltsuk name Nusi, meaning "Full Moon." Many of Ian's pieces are inspired by cultural knowledge handed down to him from his elders. His main mentor has been his great aunt, Mary Hunt, one of the last matriarchs of the Heiltsuk Nation. Ian has carved under the guidance of respected Kwakwaka'wakw artist Simon Dick. He has also been dancing since he was young, and often dances with the Gwawina Dancers. In June of 2008, Ian danced at the University of British Columbia's Chan Centre for the Performing Arts to accompany a special screening of Edward Curtis' landmark film In the Land of the Head Hunters. Also in 2008, Ian was appointed to be Project Manager for the Waglisla Big House that was constructed between 2008-2009 in Bella Bella, BC. Ian was actively involved in every phase of the project, from the original conception to material selection and construction. In 2009, Ian was one of twenty-three artists included in the Continuum: Vision and Creativity on the Northwest Coast exhibition at the Bill Reid Gallery in Vancouver, BC.