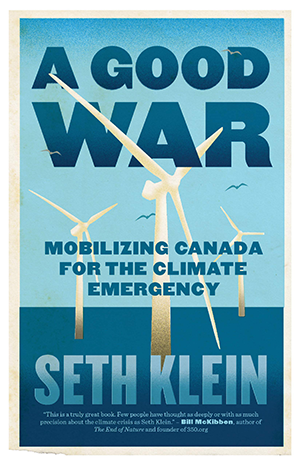 Mobilizing Canada for the Climate Emergency
Seth Klein
Publisher: ECW Press

Book Description
Canada needs to reduce its greenhouse gas emissions by 50% to prevent a catastrophic 1.5 degree increase in the earth's average temperature — assumed by many scientists to be a critical "danger line" for the planet and human life as we know it.
It's 2020, and Canada is not on track to meet our targets. To do so, we'll need radical systemic change to how we live and work—and fast. How can we ever achieve this?
Top policy analyst and author Seth Klein reveals we can do it now because we've done it before. During the Second World War, Canadian citizens and government remade the economy by retooling factories, transforming their workforce, and making the war effort a common cause for all Canadians to contribute to.
Klein demonstrates how wartime thinking and community efforts can be repurposed today for Canada's own Green New Deal. He shares how we can create jobs and reduce inequality while tackling our climate obligations for a climate neutral—or even climate zero—future. From enlisting broad public support for new economic models, to job creation through investment in green infrastructure, Klein shows us a bold, practical policy plan for Canada's sustainable future. More than this: A Good War offers a remarkably hopeful message for how we can meet the defining challenge of our lives.
COVID-19 has brought a previously unthinkable pace of change to the world—one which demonstrates our ability to adapt rapidly when we're at risk. Many recent changes are what Klein proposes in these very pages. The world can, actually, turn on a dime if necessary. This is the blueprint for how to do it.
Author Bio
Seth Klein was the founding British Columbia director of the Canadian Centre for Policy Alternatives for over two decades and has been immersed in climate change and inequality issues for his working life. He is currently an adjunct professor in urban studies at Simon Fraser University and remains a research associate with the CCPA. He lives in Vancouver, B.C.