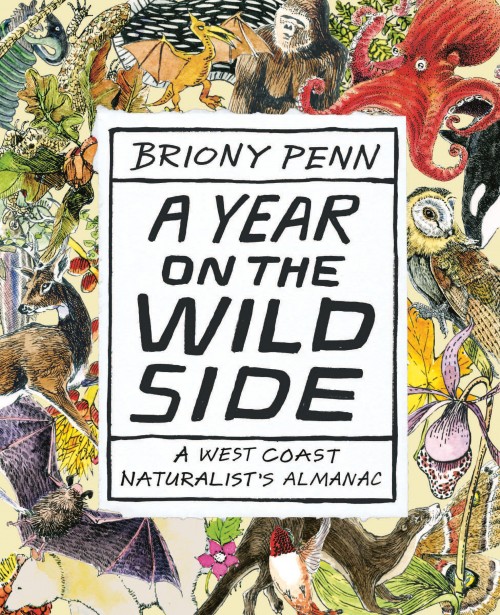 A West Coast Naturalist's Almanac
Briony Penn
Publisher: Touchwood Editions

Book Description
A Year on the Wild Side is a witty commentary on the social and natural history of Vancouver Island. Composed of short, readable essays arranged into 12 monthly chapters, this engaging book reveals the magic and humour of the natural world and reminds us of our place within it.
As the weeks and seasons unfold with the turning of the pages, you'll be in sync with the living world that surrounds you. Discover what berries are ripe and the best time to pick them. Learn why the termites swarm, where the herring spawn, and when the maple leaves fall. Get up close and personal with fascinating creatures like the snowy owl, the giant Pacific octopus, the river otter, and more.
The West Coast is abundantly alive, and A Year on the Wild Side invites you to indulge in unforgettable experiences, week by week, all year long.
Author Bio
Briony Penn is an award-winning writer of creative non-fiction books as well as a contributor to many anthologies and chapter books. She has been a feature writer and columnist for decades, with over five hundred articles on environmental issues and natural history in newspapers, magazines, government publications, online news sources and peer-reviewed journals. She has also written numerous environmental guides and educational handbooks for teachers in British Columbia. Her first book with RMB, The Real Thing: The Natural History of Ian McTaggart Cowan, was the winner of the 2015 BC Book Prize. Her work with Cecil Paul will continue with the publication of a comprehensive and collaborative biography, Following the Good River: Stories from the Magic Canoe of Cecil Paul, which will be published by RMB in the autumn of 2019. Briony lives on Salt Spring Island, BC.