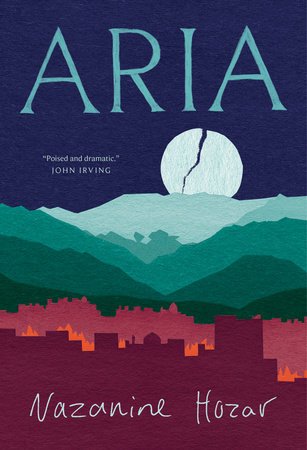 Nazanine Hozar
Publisher: Knopf Canada
Book Description
It is the early 1950s in a restless Iran, a country powerful with oil wealth but unsettled by class and religious divides and by a larger world hungry for its resources. One night, a humble driver in the Iranian army is walking home through a neighbourhood in Tehran when he hears a small, pitiful cry. Curious, he searches for the source, and to his horror comes upon a newborn baby girl abandoned by the side of the road and encircled by ravenous dogs. He snatches up the child, and forever alters his own destiny and that of the little girl, whom he names Aria.
Nazanine Hozar's stunning debut takes us inside the Iranian revolution–but seen like never before, through the eyes of an orphan girl. Through Aria, we meet three very different women who are fated to mother the lost child: reckless and self-absorbed Zahra, wife of the kind-hearted soldier; wealthy and compassionate Fereshteh, who welcomes Aria into her home, adopting her as an heir; and finally, the mysterious, impoverished Mehri, whose connection to Aria is both a blessing and a burden. The novel's heart-pounding conclusion takes us through the brutal revolution that installs the Ayatollah Khomeini as Iran's supreme leader, even as Aria falls in love and becomes a young mother herself.
Author Bio
NAZANINE HOZAR was born in Tehran, Iran, and lives in British Columbia, Canada. Her fiction and non-fiction have been published in The Vancouver Observer and Prairie Fire magazine.