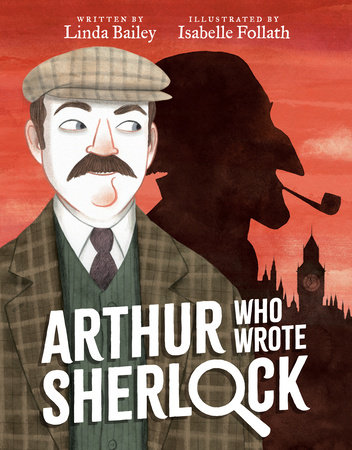 Arthur Who Wrote Sherlock
Linda Bailey, illustrated by Isabelle Follath
Publisher: Tundra Books | Penguin Random House Canada

Book Description
The adventures of Sir Arthur Conan Doyle, creator of the legendary Sherlock Holmes, come to life in this inspiring picture book biography.
What if you wrote a story about a detective, and he became the most famous detective ever? Wouldn't that be wonderful? Or . . . would it? Arthur has always loved stories. Even as he grew up poor, endured hardships at school and experienced danger on the high seas, Arthur was always thrilled and inspired by stories. Eventually, he writes his own, and after many years of struggle as a writer, he finally finds success with a series of mystery stories starring his genius detective, Sherlock Holmes. But is it possible for a character to become too successful? Too popular? And if that happens to Arthur, will he really throw his greatest literary creation . . . over a cliff?!
From the author of Mary Who Wrote Frankenstein comes a riveting and humorous picture book about the incredible life of Arthur Conan Doyle: doctor, adventurer, tireless campaigner for justice . . . and creator of the world's most famous detective!
Author Bio
Linda Bailey is an award-winning author who has written nearly forty books for children. Mary Who Wrote Frankenstein was cited as a Best Book of the Year by Publishers Weekly, the Globe and Mail, the New York Public Library, CBC and Booklist, among others. In addition to these, Linda has been awarded the Blue Spruce Award, the Silver Birch Award the Shining Willow Award (twice), the B.C. Chocolate Lily Award (five times), the Red Cedar Award, the California Young Reader Medal, the Georgia Storybook Award, the Christie Harris Award, the Hackmatack Award and the Arthur Ellis Award (twice).
Isabelle Follath is a freelance illustrator based in Switzerland who has created art for advertising agencies, magazines and publishers for over 15 years. Her clients include Lufthansa, La Perla and children's publishers across Europe. She has illustrated Jeanne Willis's book of nursery rhymes, What Are Little Girls Made Of, as well as the picture books Joy by Corrinne Averiss and The Incredible Hotel by Kate Davies, and the middle-grade novel series Aggie Morton, Mystery Queen by Marthe Jocelyn, Sally Nicholls' In Time series and Jack Meggitt-Phillips The Beast and Bethany series.