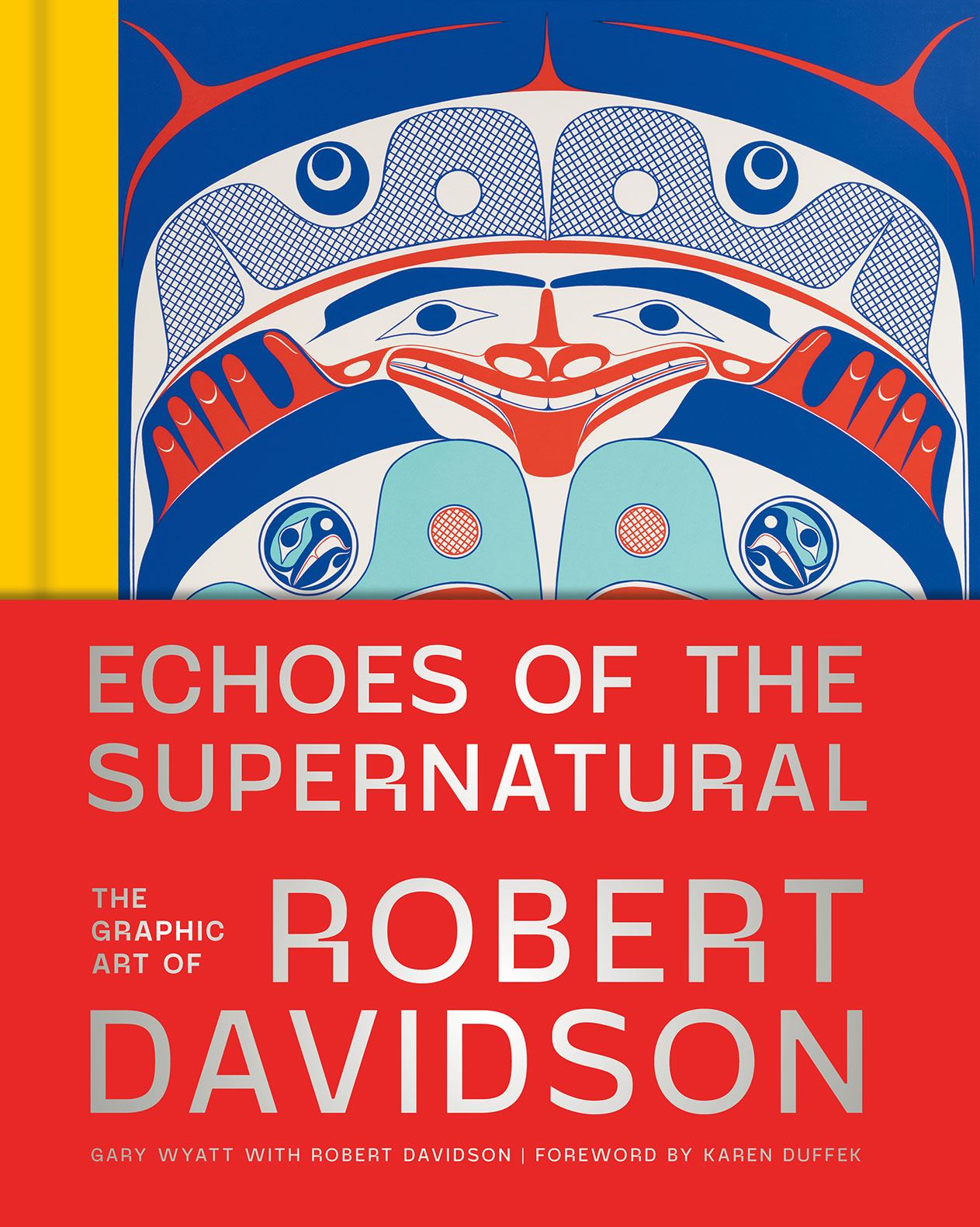 Echoes of the Supernatural: The Graphic Art of Robert Davidson
Gary Wyatt with Robert Davidson. In collaboration with the Vancouver Art Gallery
Publisher: Figure 1 Publishing
Book Description
With over two hundred serigraphs and paintings, Echoes of the Supernatural: The Graphic Art of Robert Davidson is an exhilarating tour of a half-century of mastery and innovation of Haida formline by the most prominent Northwest Coast artist of his generation.
Author Bio
Gary Wyatt represented master-level Northwest Coast, Inuit, and Maori artists for thirty-five years, including Robert Davidson from the late 1980s to 2020. He was curator of Northwest Coast Art for the Inuit Gallery of Vancouver for eight years, and co-founded the Spirit Wrestler Gallery in 1995. He has curated many ground-breaking exhibitions of contemporary Northwest Coast art, lectured extensively on the art form internationally, and authored several catalogues and books, including Susan Point: Works on Paper (2014), Seekers and Travellers: Contemporary Art of the Pacific Northwest Coast (2012), and Mythic Beings: Spirit Art of the Northwest Coast (1999).
Robert Davidson is a leading figure in the renaissance of Haida art and culture, and is among the most acclaimed artists in Canada. Over the past five decades, his works in a variety of mediums—including painting, serigraphs, carved argillite and wood, aluminum sculpture, and silver jewellery—have earned him numerous awards, including the Governor General's Award for Visual Arts and the Audain Prize for Lifetime Achievement. He is a Member of the Order of B.C. and an Officer of the Order of Canada, and holds many honourary degrees from universities in Canada and the U.S. He has hosted many potlatches and feasts in Haida Gwaii, and co-founded the Rainbow Creek Dancers (with Reg Davidson) and the Haida Gwaii Singers Society (started by Terri-Lynn Williams-Davidson). Davidson lives and works in White Rock, B.C., and his home community of Old Masset, Haida Gwaii.