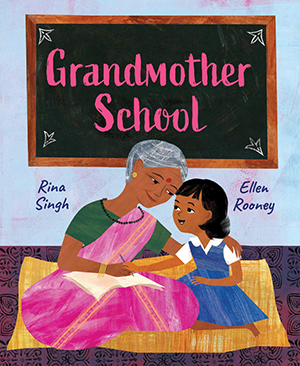 Written by: Rina Singh   Illustrated by: Ellen Rooney
Publisher: Orca Book Publishers

Book Description
Every morning, a young girl walks her grandmother to the Aajibaichi Shala, the school that was built for the grandmothers in her village to have a place to learn to read and write. The narrator beams with pride as she drops her grandmother off with the other aajis to practice the alphabet and learn simple arithmetic. A moving story about family, women and the power of education—when Aaji learns to spell her name you'll want to dance along with her. 
Women in countless countries continue to endure the limitations of illiteracy. Unjust laws have suppressed the rights of girls and women and kept many from getting an education and equal standing in society. Based on a true story from the village of Phangane, India, this brilliantly illustrated book tells the story of the grandmothers who got to go to school for the first time in their lives.
Author Bio
Rina Singh has published several critically acclaimed books for children inspired by her Indian Canadian heritage, including Diwali Lights, Holi Colors and Diwali: A Festival of Lights, which was nominated for the Red Cedar Award. Rina lives in Toronto.
Illustrator Bio
Ellen Rooney is a designer, artist and children's book illustrator. Her textural mixed media artwork combines many traditional art techniques, like pencil drawing, painting, printmaking and collage, often combined with digital techniques. Originally from Massachusetts, she now lives in the southern Okanagan Valley in British Columbia.