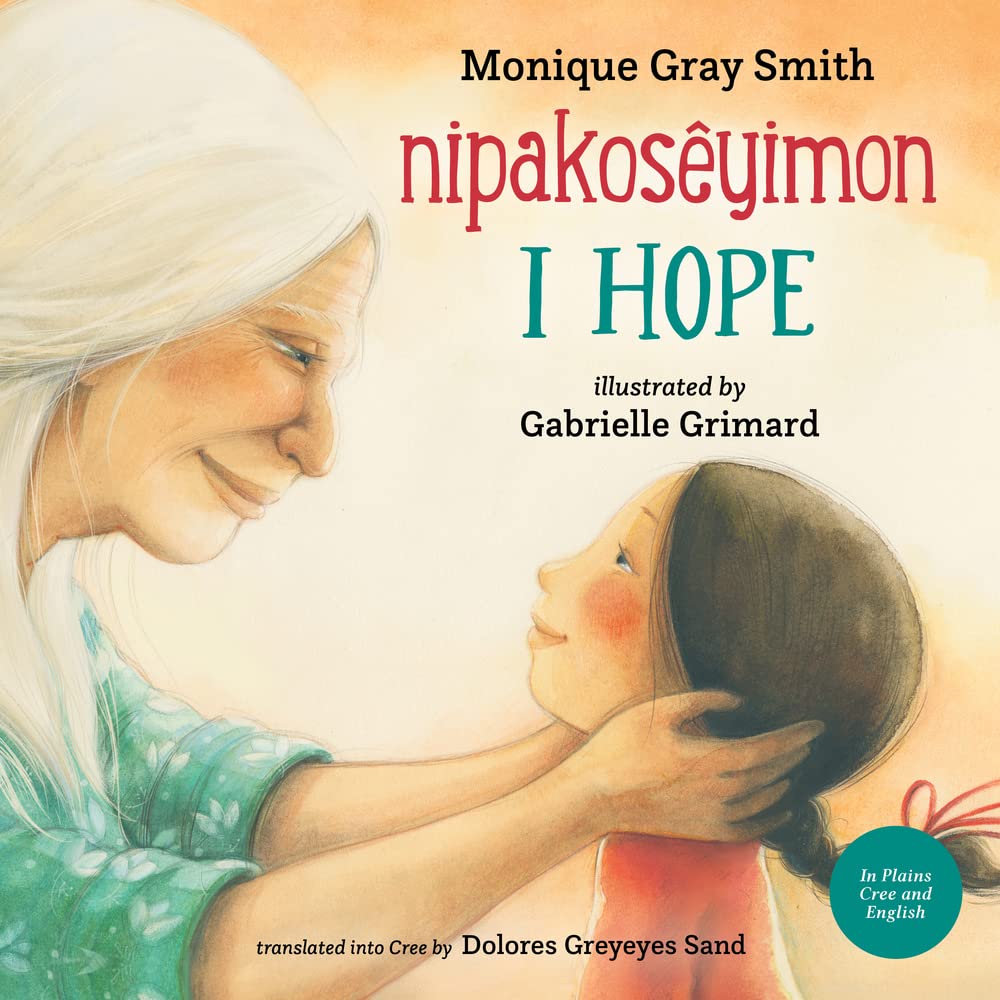 Monique Gray Smith, translated by Dolores Greyeyes Sand, illustrated by Gabrielle Grimard
Publishing: Orca Book Publishers
Book Description
Poignant words from award-winning Indigenous author Monique Gray Smith about all the hopes adults have for the young people in their lives.
The hopes we have for the children in our lives are endless. We want our young people to thrive and experience all that life has to offer, but we also feel protective of them. Using simple but powerful statements, Monique Gray Smith delivers a touching message about loving, nurturing and wishing the best for our children. Paired with Gabrielle Grimard's warm and enchanting illustrations, the message in I Hope will resonate with all parents, grandparents and caregivers.
Orca Book Publishers is proud to offer this picture book as a dual-language (English and Plains Cree) edition.
Author Bio
Monique Gray Smith is a proud mom of teenage twins, an award-winning, best-selling author and sought after consultant. Monique's most recent novel, Tilly and the Crazy Eights was long listed for Canada Reads 2021.
Monique has 9 books ranging for readers across the life span. Children's books include My Heart Fills with Happiness, You Hold Me Up, When We Are Kind, Lucy and Lola and I Hope. Young Adult and Adult books include Speaking our Truth: A Journey of Reconciliation, Tilly: A Story of Hope and Resilience,  and recently released, Braiding Sweetgrass for Young Adults. 
Monique's books are used to share wisdom, knowledge, hope and the important teaching that love is medicine. 
Monique is Cree, Lakota and Scottish and has been sober and involved in her healing journey for over 32 years. She is well known for her storytelling, spirit of generosity and focus on resilience.
As a first-language speaker of Plains Cree (nêhiyawêwin), translator Dolores Greyeyes Sand has devoted her career to teaching and promoting Cree language and cultural literacy at every opportunity, proudly following the path laid by her late mother, Dr. Freda Ahenakew, CM, SOM.
Gabrielle Grimard uses various media to research and create the illustrations for a book, but her favorite aspect will always be color. She uses mainly watercolors, gouache, and oil. She adds a touch of wooden pencil for the details. She has illustrated dozens of books and has been nominated for several awards. She lives near Sherbrooke, Quebec.