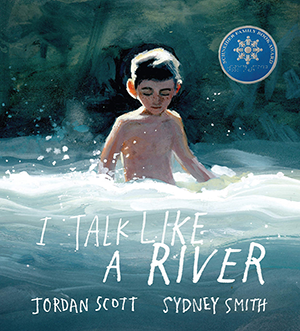 Written by: Jordan Scott
Illustrated by: Sydney Smith
Publisher: Neal Porter Books

Book Description
I wake up each morning with the sounds of words all around me.
And I can't say them all . . .
When a boy who stutters feels isolated, alone, and incapable of communicating in the way he'd like, it takes a kindly father and a walk by the river to help him find his voice. Compassionate parents everywhere will instantly recognize a father's ability to reconnect a child with the world around him.
Poet Jordan Scott writes movingly in this powerful and ultimately uplifting book, based on his own experience, and masterfully illustrated by Greenaway Medalist Sydney Smith. A book for any child who feels lost, lonely, or unable to fit in.
Author Bio
Jordan Scott is the author of Silt; blert; Decomp, a collaboration with Stephen Collis and ecosphere of British Columbia; and Night & Ox. His chapbooks include Clearance Process and Lanterns at Guantánamo. Both chapbooks treat his experience after being allowed access to Guantanamo Bay in April 2015. Scott was the 2015/16 Writer-in-Residence at Simon Fraser University and the recipient of the 2018 Latner Writers' Trust Poetry Prize for his contributions to Canadian poetry. Scott's first children's book, I Talk Like a River, is published by Holiday House / Neal Porter Books and illustrated by Sydney Smith. Scott also works as an editor with Broc Rossell at The Elephants. More of Scott's work, including his multimedia projects, are found here  and here.
Illustrator Bio
Sydney Smith is a Canadian illustrator of children's books. He was awarded the 2015 Governor General's Award For Illustrated Children's Books for Sidewalk Flowers, a wordless picture book which he illustrated with author JonArno Lawson. He currently resides in Halifax, Nova Scotia.