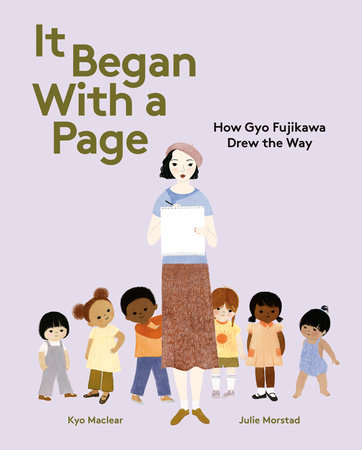 How Gyo Fujikawa Drew the Way
Kyo Maclear
Illustrated by Julie Morstad
Publisher: Tundra Books
Book Description
Growing up quiet and lonely at the beginning of the twentieth century, Gyo learned from her relatives the ways in which both women and Japanese people lacked opportunity. Her teachers and family believed in her and sent her to art school and later Japan, where her talent flourished. But while Gyo's career grew and led her to work for Walt Disney Studios, World War II began, and with it, her family's internment. But Gyo never stopped fighting — for herself, her vision, her family and her readers — and later wrote and illustrated the first children's book to feature children of different races interacting together.
This luminous new book beautifully and openly touches on Gyo's difficult experiences and growth. Through Julie Morstad's exquisite illustrations, alternating between striking black-and-white linework and lush colour, and Kyo Maclear's artful and accessible writing, the story of this cherished figure is told at last.
Author Bio
KYO MACLEAR is a novelist, essayist and children's author. She was born in London, England, and moved to Toronto at the age of four. Kyo holds an Honors B.A. in Fine Art and Art History and an M.A. in Cultural Studies from the University of Toronto, and is currently a doctoral student at York University, where she holds a Vanier Canada Graduate Scholarship. She is the author of two acclaimed novels for adults, The Letter Opener and Stray Love, and numerous beloved books for children, including Julia, Child and The Good Little Book. Kyo lives in Toronto where she shares a home with two sons, two cats, a musician and a truckload of books.
JULIE MORSTAD is an author, illustrator, and artist living in Vancouver. Her books have all received great acclaim; most recently, How To was a 2013 Governor General's Award finalist and received starred reviews in Kirkus Reviews and School Library Journal.