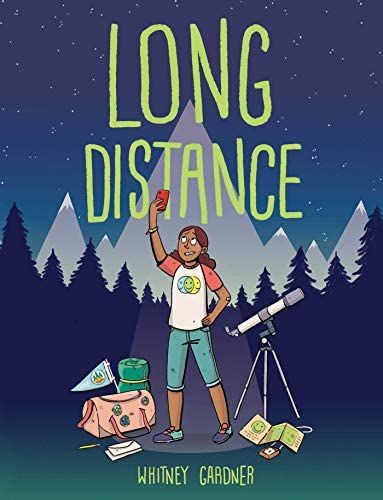 Whitney Gardner
Publisher: Simon & Schuster Books for Young Readers

Book Description
Vega's summer vacation is not going well.
When her parents decide it's time to pack up and leave her hometown of Portland, Oregon, behind for boring Seattle, Washington, Vega is more than upset—she's downright miserable. Forced to leave her one and only best friend, Halley, behind, Vega is convinced she'll never make another friend again.
To help her settle into her new life in Seattle, her parents send Vega off to summer camp to make new friends. Except Vega is determined to get her old life back. But when her cellphone unexpectedly calls it quits and things at camp start getting stranger and stranger, Vega has no choice but to team up with her bunkmates to figure out what's going on!
Author Bio
Whitney Gardner is an author, illustrator, and cartoonist living by the Salish Sea with her husband and two pugs. She started drawing stick figures in second grade and somehow no one's been able to stop her. If there's ever a moment when she isn't drawing she's likely to be found baking, tending to her many houseplants, or rolling twenty-sided dice. Her favorite color is, and always will be, yellow. She is the author of the YA novels You're Welcome, Universe and Chaotic Good, as well as the creator of Fake Blood and Long Distance and the illustrator for Debbie Levy's Becoming RBG.