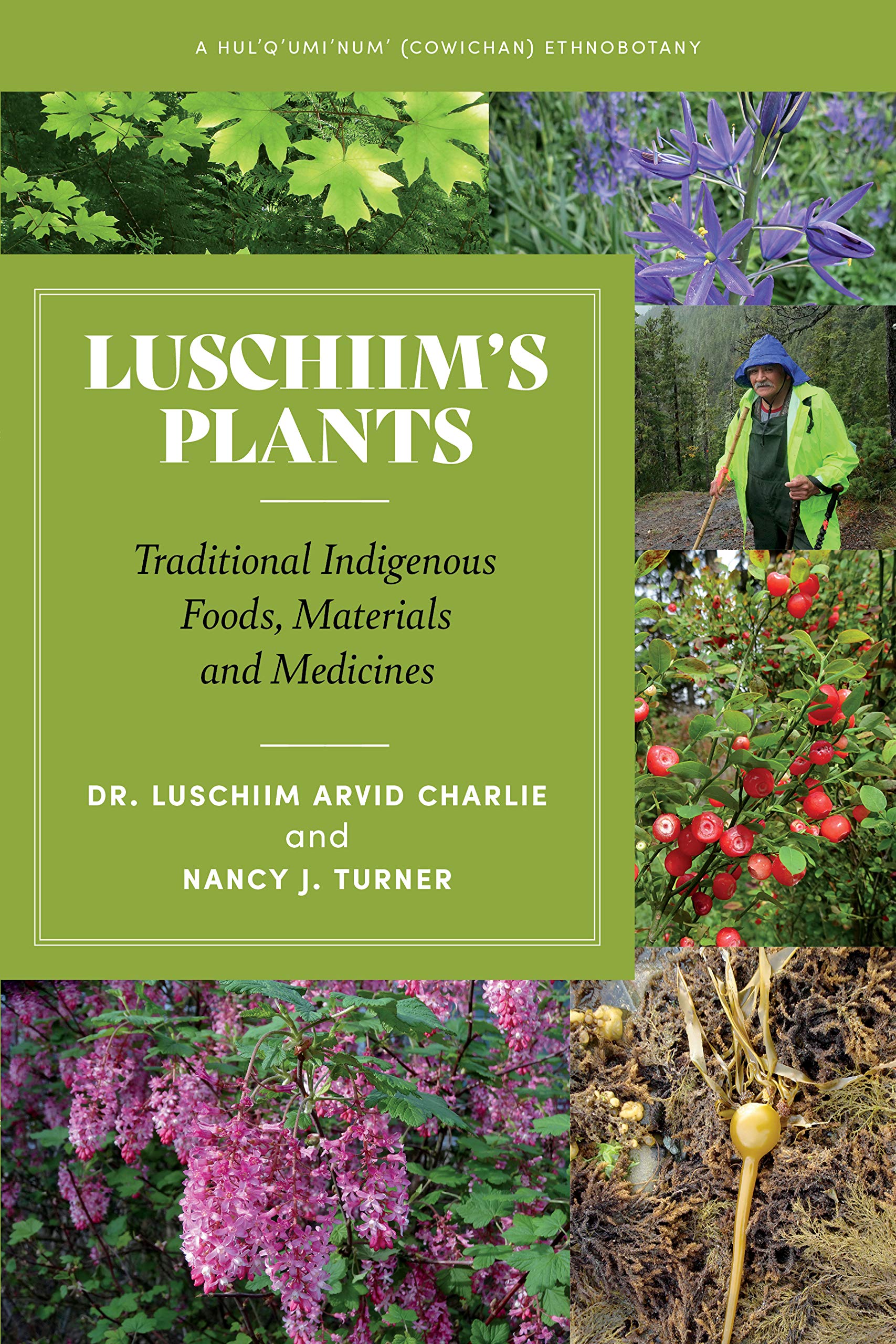 Traditional Indigenous Foods, Materials and Medicines
Dr. Luschiim Arvid Charlie and Nancy J. Turner​
Publisher: Harbour Publishing

Book Description
Respected Cowichan Tribe Elder and botanical expert, Luschiim Arvid Charlie, began his education in early childhood, learning from his great grandparents and others of their generation. Luschiim's Plants represents his dedication to the survival of the Hul′q′umi′num′ language and traditional knowledge of plants for future generations. From the healing properties of qaanlhp (arbutus) to the many practical applications of q'am (bull kelp), the information presented in this remarkable guide shares knowledge of plants that Luschiim is familiar with through his own Elders' teachings and by way of direct experience over the course of his lifetime, and compiled from field outings and interviews with notable ethnobiologist and botanist Nancy J. Turner.
In this unprecedented collection of botanical information, over 140 plants are categorized within their broad botanical groupings: algae and seaweeds, lichens, fungi and mushrooms, mosses and liverworts, ferns and fern-allies, coniferous trees, deciduous trees, shrubs and vines, and herbaceous flowering plants. Each entry is illustrated with a colour photo and includes the plant's common, scientific and Hul′q′umi′num′ names; a short description; where to find it; and cultural knowledge related to the plant. Additional notes encompass plant use, safety and conservation; the linguistic writing system used for Hul′q′umi′num′ plant names; as well as miscellaneous notes from interviews with Luschiim.
This volume is an important addition to the bookshelves of botanists, and will fascinate anyone with an interest in plants of the West Coast and their traditional uses by Coast Salish peoples.
Author Bios
Dr. Luschiim Arvid Charlie was born in Quamichan, one of the Cowichan Villages, in 1942 and has lived in the Duncan, BC, area all of his life. From the age of three, he began learning about plants and their various uses from the Elders in his family. Since then, he has made it a personal priority to gather knowledge about the natural environment. In 2007, he received an Honorary Doctorate of Letters degree at Malaspina University-College in recognition of of his extensive contributions
to the teaching of Coast Salish culture and traditions in a wide range of contexts, as well as his commitment to the protection of the environment and preservation of the Hul′q′umi′num′ language.
Nancy J. Turner is an ethnobotanist, Distinguished Professor Emerita, Fellow of the Pierre Elliott Trudeau Foundation and former Hakai Professor in Ethnoecology with the School of Environmental Studies, University of Victoria, British Columbia, Canada. She has worked with First Nations elders and cultural specialists in northwestern North America for over 50 years, helping to document, retain and promote their traditional knowledge of plants and environments, including Indigenous foods, materials and traditional medicines. She has been formally adopted into Haida, Kwakwaka'wakw, Songhees and Nisga'a families. Her two-volume book, Ancient Pathways, Ancestral Knowledge: Ethnobotany and Ecological Wisdom of Indigenous Peoples of Northwestern North America (July, 2014; McGill-Queen's University Press), represents an integration of her long term research. She has authored or co-authored/co-edited 30 other books, including: Plants of Haida Gwaii; The Earth's Blanket; "Keeping it Living": Traditions of Plant Use and Cultivation on the Northwest Coast of North America (with Doug Deur); Saanich Ethnobotany: Culturally Important Plants of the WSÁNEC' People (with Richard Hebda), and Food Plants of Coastal First Peoples, and over 150 book chapters and papers. Her most recent edited volume is Plants, People, and Places: the Roles of Ethnobotany and Ethnoecology in Indigenous Peoples' Land Rights in Canada and Beyond (2020). She has received a number of awards for her work, including membership in Order of British Columbia (1999) and the Order of Canada (2009), honorary degrees from Vancouver Island University, University of British Columbia, University of Northerm British Columbia and Simon Fraser University; the Federation for the Humanities and Social Sciences' Canada Prize in the Social Sciences for Ancient Pathways, and The Royal Society of Canada's Innis-Gérin medal.