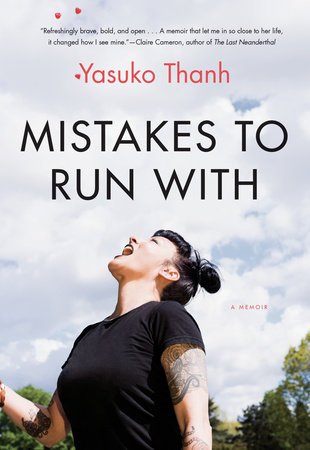 Yasuko Thanh
Publisher: Penguin Canada
Book Description
Mistakes to Run With chronicles the turbulent life of Yasuko Thanh, from early childhood in the closest thing Victoria, BC, has to a slum to teen years as a sex worker and, finally, to her emergence as an award-winning author. As a child, Thanh embraced evangelical religion, only to rebel against it and her equally rigid parents, cutting herself, smoking, and shoplifting. At fifteen, the honour-roll runaway develops a taste for drugs and alcohol. After a stint in jail at sixteen, feeling utterly abandoned by her family, school, and society, Thanh meets the man who would become her pimp and falls in love.
The next chapter of her life takes Thanh to the streets of Vancouver, where she endures beatings, arrests, crack cocaine, and an unwanted pregnancy. The act of writing ultimately becomes a solace from her suffering. Leaving the sex trade, but refusing to settle on any one thing, Thanh forges a new life for herself, from dealing drugs in four languages to motherhood and a complicated marriage, and emerges as a successful writer.
But even as publication and awards bolster her, she remains haunted by her past.
Author Bio
Yasuko Thanh's story collection Floating Like the Dead was shortlisted for the Danuta Gleed Award and the Ethel Wilson Fiction Prize. One of its stories won an Arthur Ellis Award for Best Crime Short Story. The title story won the Journey Prize for the best story published in Canada in 2009. Quill & Quire named Floating Like the Dead a Best Book of the Year. CBC hailed Yasuko Thanh one of ten writers to watch in 2013. Mysterious Fragrance of the Yellow Mountains, her debut novel, won the Rogers Writers' Trust for Fiction, the City of Victoria Butler Book Prize, and was nominated for the Amazon.ca First Novel Award. She lives in Victoria, BC, with her two children. In her spare time she plays in a punk band called 12 Gauge Facial, for which she writes all the songs and music.