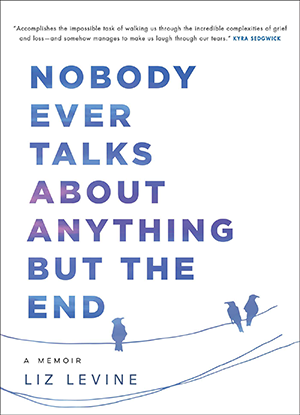 Nobody Ever Talks About Anything But the End
Liz Levine
Publisher: Simon & Schuster

Book Description
In November of 2016, Liz Levine's younger sister, Tamara, reached a breaking point after years of living with mental illness. In the dark hours before dawn, she sent a final message to her family then killed herself.
In Nobody Ever Talks About Anything But the End, Liz weaves the story of what happened to Tamara with another significant death—that of Liz's childhood love, Judson, to cancer. She writes about her relationship with Judson, Tamara's struggles, the conflicts that arise in a family of challenging personalities, and how death casts a long shadow. This memorable account of life and loss is haunting yet filled with dark humor—Tamara emails her family when Trump is elected to check if she's imagining things again, Liz discovers a banana has been indicted as a whistleblower in an alleged family conspiracy, and a little niece declares Tamara's funeral the "most fun ever!"
With honesty, Liz exposes the raw truths about grief and mourning that we often shy away from—and almost never share with others. And she reveals how, in the midst of death, life—with all its messy complications—must also be celebrated.
Author Bio
Liz Levine is an award-winning producer whose credits include Kyra Sedgwick's directorial debut, Story of a Girl, and Douglas Coupland's television series jPod. She completed her master of journalism degree at the University of British Columbia and has written for the National Post, The Walrus, Playback magazine, and The Vancouver Sun. She divides her time between Toronto, Vancouver, and Los Angeles.