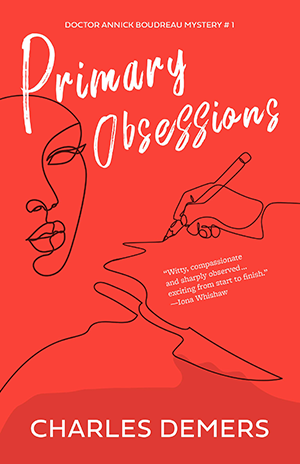 Charles Demers
Publisher: Douglas & McIntyre

Book Description
The endearing and unflappable Dr. Annick Boudreau regularly confronts a myriad of mental health issues in her psychology practice at the West Coast Cognitive Behavioural Therapy Clinic in Vancouver, British Columbia. But even Annick is stunned when Sanjay, a young patient who suffers from Obsessive Compulsive Disorder, is arrested for the brutal murder of his roommate. While Sanjay is tortured by repeated violent thoughts, everything Annick knows about her patient and his illness has her convinced that he's innocent. But the police and prosecutor are convinced that they have caught the perpetrator and aren't interested in looking very hard. Unable to talk to the authorities because of doctor-patient confidentiality, Annick feels compelled to investigate on her own, finding herself drawn into the darker side of her postcard-perfect city in the process.
Primary Obsessions is the first book in a series of mysteries starring Dr. Annick Boudreau and involving themes of mental health. Author (and longtime CBT patient) Charles Demers deftly reveals a particular aspect of psychology practice in each book, illuminating shadowy subject matter with masterful sensitivity and sharp wit. Primary Obsessions is an engrossing page-turner and a refreshing reboot of the sleuth genre.
Author Bio
Charles Demers is an author, comedian, actor, playwright, screenwriter and political activist. His collection of essays, Vancouver Special (Arsenal Pulp Press, 2009), was shortlisted for the Hubert Evans Non-Fiction Prize. He is also the author of Property Values (Arsenal Pulp Press, 2018). He is one of the most frequently returning stars of CBC Radio's smash-hit comedy The Debaters, with a weekly listening audience of 750,000. Demers lives in Vancouver, BC, where he is working on a second book in the Doctor Annick Boudreau Mystery series, Suicidal Thoughts.