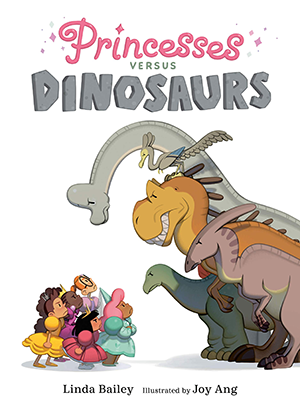 Princesses versus Dinosaurs
Written by: Linda Bailey
Illustrated by: Joy Ang
Publisher: Tundra Books

Book Description
Two popular storybook titans, princesses and dinosaurs, battle to determine who should star in this laugh-out-loud picture book for fans of Shark vs Train and The Book With No Pictures.
This is a princess book!
No, it's a dinosaur book!
No, it's . . . a T. rex book? A dragon book? A rubber ducky book?!
From Linda Bailey, award-winning and critically acclaimed author, and Joy Ang, Adventure Time-artist and illustrator of the Mustache Baby series, comes an irresistibly irreverent picture book in which plucky princesses and determined dinosaurs have a battle royale over whose book this is. When they start calling in the big guns — or rather, the big carnivores — and decide to build a wall to resolve their differences, princesses and dinosaurs alike learn a thing or two about open-mindedness and sharing.
Author Bio
Linda Bailey is the author of more than two dozen books for children, including the Stevie Diamond mystery series, the Good Times Travel Agency graphic novels, and an eclectic assortment of picture books including If You Happen to Have a Dinosaur and the acclaimed Stanley's Party. She has won awards across North America such as the California Young Readers' Medal, the Georgia Storybook Award, the Ontario Blue Spruce and Silver Birch Awards, the Oregon SMART Award and the Arthur Ellis Award from the Crime Writers of Canada. Born in Winnipeg, Linda has now traveled around the world, and so have her books. She has two grown daughters, Lia and Tess, and lives in Vancouver within strolling distance of the sea.
Illustrator Bio
Joy Ang and is a freelance artist living in Edmonton. She creates children's illustrations and game art/concepts, but has also done editorial, comic and advertisement work. 
Joy was born in Calgary, Alberta, and graduated from the Alberta College of Art & Design with a Bachelor of Design in 2007. She got her start making art professionally with Udon Comics and got into the gaming industry with BioWare. In 2009, along with  Nick Thornborrow and Sam Bradley, she helped create and publish two volumes of The Anthology Project; a collection of short comics by various talented artists.