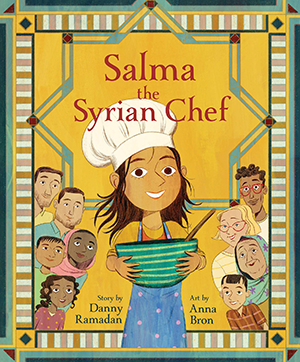 Written by: Danny Ramadan
Illustrated by: Anna Bron
Publisher: Annick Press

Book Description
Newcomer Salma and friends cook up a heartwarming dish to cheer up Mama.
All Salma wants is to make her mama smile again. Between English classes, job interviews, and missing Papa back in Syria, Mama always seems busy or sad. A homemade Syrian meal might cheer her up, but Salma doesn't know the recipe, or what to call the vegetables in English, or where to find the right spices! Luckily, the staff and other newcomers at the Welcome Center are happy to lend a hand—and a sprinkle of sumac.
With creativity, determination, and charm, Salma brings her new friends together to show Mama that even though things aren't perfect, there is cause for hope and celebration. Syrian culture is beautifully represented through the meal Salma prepares and Anna Bron's vibrant illustrations, while the diverse cast of characters speaks to the power of cultivating community in challenging circumstances.
Author Bio
Danny Ramadan is a Syrian-Canadian author, award-winning activist, and public speaker. His debut novel, The Clothesline Swing, won multiple awards. His work in activism provided a safe passage to dozens of Syrian LGBTQ-refugees to Canada. Salma the Syrian Chef is his first book for children. He lives in Vancouver, British Columbia.
Illustrator Bio
Anna Bron studied traditional animation at Sheridan College. She illustrated the award-winning picture book Salma the Syrian Chef and has animated, designed, and directed commercials and short films. She lives in Vancouver, British Columbia.