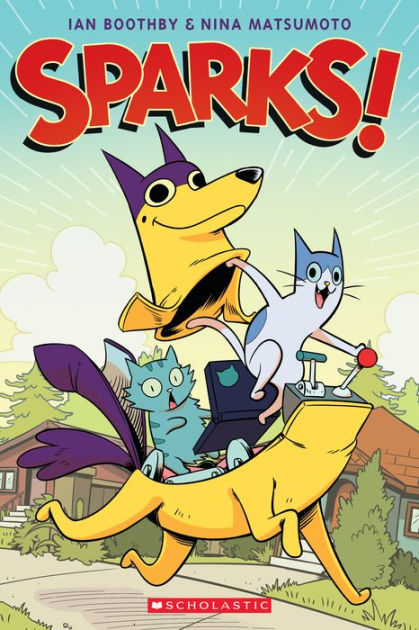 Ian Boothby
Illustrated by Nina Matsumoto
Publisher: Scholastic Canada
Book Description
August is a brilliant inventor who is afraid of the outside. Charlie is a crack pilot who isn't afraid of anything. Together these pals save lives every day. They also happen to be cats who pilot a powerful, mechanical dog suit!  Always eager to leap into danger, this feline duo have their work cut out for them as they try to thwart Princess, an evil alien bent on enslaving mankind. When Princess enacts a brilliant and dastardly plan to conquer Earth, August and Charlie pull out all the stops to save the day.  
Author Bio
Ian Boothby has written comic books for The Simpsons, Futurama, Mars Attacks, Scooby-Doo, The Powerpuff Girls and The Flash. Ian has also won an Eisner Award for Best Short Story along with the artist Nina Matsumoto. Sparks is his first graphic novel for children.
Nina Matsumoto is a Japanese-Canadian cartoonist, also known as "space coyote", and most known for creating the comic book series Yōkaiden for Del Rey Manga. She created the webcomic Saturnalia, and has worked as a penciller on Simpsons Comics and The Last Airbender: Prequel: Zuko's Story graphic novel.