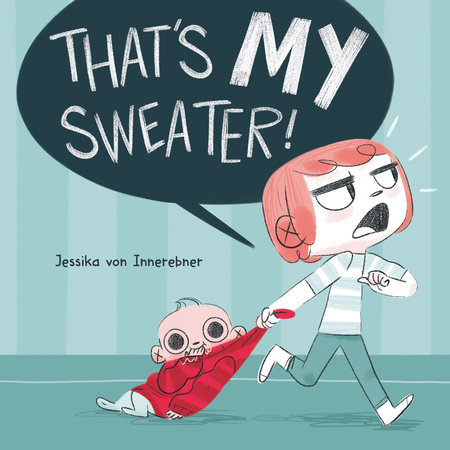 Written and illustrated by Jessika Von Innerebner 
Publisher: Scholastic Canada Ltd.
Book Description
Olivia plots to get her favourite sweater back in this funny hand-me-down drama.
Olivia grows but her sweater doesn't, so her mother passes it down to her stinky, drool-y little brother. That sweater keeps her warm and cool, safe and brave. Olivia needs it and there is no way she's going to give it up. Or is there?
Whether you're the youngest, the oldest, or somewhere in between, this sweet story of sibling rivalry will strike a chord.
Author Bio
Jess is an author, artist, creatrix, and real-life world adventurer. She's worked with many awesome people bringing their ideas into reality through illustration. Her own books include It's Not All Rainbows and Why Can't We Be Bestie-Corns? and That's MY Sweater! You can also find Jess relaxing, skateboarding, training to be a striker on the pitch, or sipping a delicious coffee somewhere in the world.