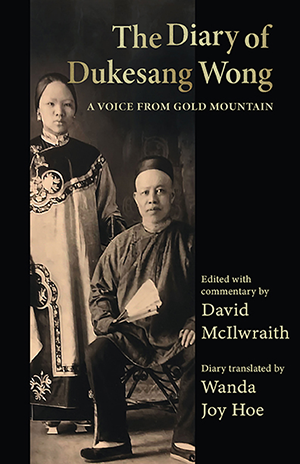 The Diary of Dukesang Wong
A Voice from Gold Mountain
Dukesang Wong
Edited by David McIlwraith
Translated by Wanda Joy Hoe
Publisher: Talonbooks

Book Description
The Diary of Dukesang Wong restores a lost central voice to a foundational episode in Canadian history – one that changes our understanding of the history it recounts. Dukesang Wong's remarkable diary tells of the appalling conditions, the punishing work, the camaraderie, the sickness and starvation, the encounters with Indigenous Peoples, and the shameful history of racism and exploitation he and his fellow Chinese workers endured while constructing the treacherous British Columbia section of the Canadian Pacific Railway.
The Diary of Dukesang Wong also places this segment of Canadian history into context, as one part of Wong's gradual, painful establishment of a new life in a new land. His diary traces the unfolding of that remarkable life, from his early years in an unstable China, to his decision to emigrate to "the Land of the Gold Mountains," to becoming a tailor in New Westminster, and finally to the joys of family life. As Judy Fong Bates writes in her introduction, "His diaries give him back his humanity and his individuality … It is a heartbreaking, but ultimately hopeful, voice that reaches out beyond the century."
Author Bio
Born in a village north of Beijing, China, in 1845, Dukesang Wong travelled to North America in 1880 and worked for several years on the construction of the CPR in British Columbia. He eventually settled in New Westminster, BC, where he worked as a tailor and started a family. He died in 1931.
David McIlwraith has been a writer, teacher, actor, and director. During a career in theatre, film, and television, he wrote and directed award-nominated documentaries and television programs, including Celesta Found, The Lynching of Louie Sam, In Chinatown, and Harrowsmith Country Life. He has worked across Canada in the development of new Canadian plays. As an actor, he has played roles from Romeo to Prospero, and he has taught at the University of Toronto and the University of Alberta. He spent a decade searching for and then researching this first-person account of the nineteenth-century Chinese experience in North America. He lives in Hamilton, Ontario, with his wife and daughter and spends summers with friends on Salt Spring Island.
Born in 1947, Wanda Joy Hoe translated selections from the diary of her grandfather, Dukesang Wong, for an undergraduate sociology course at Simon Fraser University in the mid-1960s. After serving for many years with Canada's delegation to UNESCO, she retired and now lives in Ottawa.