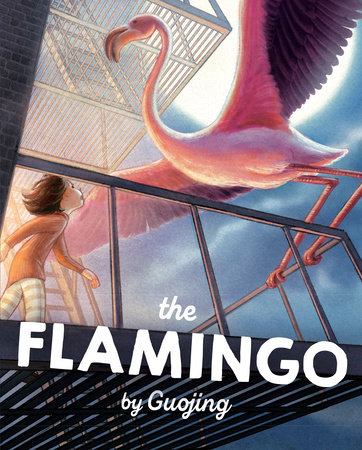 Written and illustrated by Guojing
Publisher: Random House Studio | Penguin Random House Canada
Book Description
A little girl arrives, excited for a beachy vacation with her Lao Lao. The girl and her grandmother search for shells, chase crabs, and play in the sea, but when the girl finds an exquisite flamingo feather in her grandmother's living room, her vacation turns into something fantastical.

This nearly wordless graphic novel begins in nostalgic sepia toned illustrations and explodes into riotous color as Lao Lao tells her granddaughter the story of a little girl who finds herself as the caretaker of a baby flamingo.

The Flamingo is a tale of imagination, reunions, and connection that readers are sure to reach for again and again.
Author Bio
Guojing is a renowned artist celebrated for her picture books, including Stormy and The Only Child. Here she turns her visual storytelling talent to the graphic novel format with multiple panels per page and a compelling story that will appeal to readers who are ready for the next step after picture books.