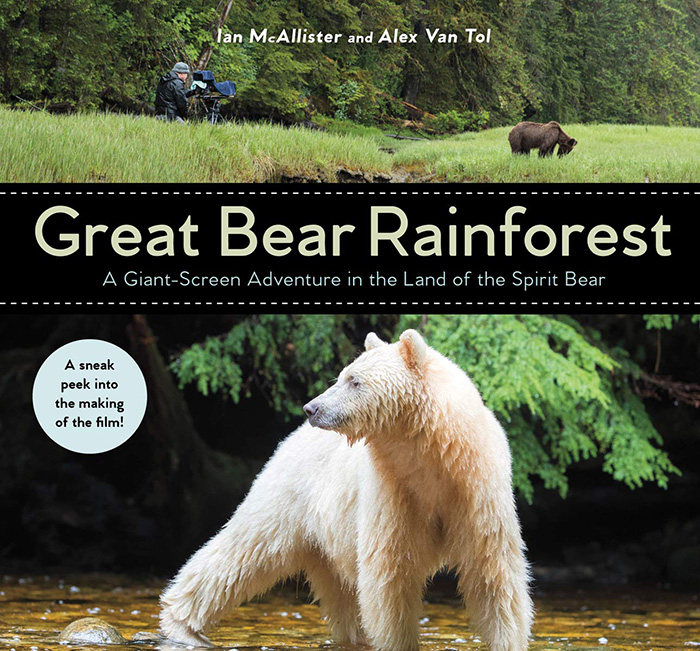 The Great Bear Rainforest
A Giant-Screen Adventure in the Land of the Spirit Bear
Ian McAllister and Alex Von Tol
Publisher: Orca Book Publishers

Book Description
In the northwest corner of British Columbia, between the Alaska–BC border and the northern tip of Vancouver Island, lies a land of forest green and sparkling blue. From massive whales to tiny herring, spirit bears to sea wolves, an incredibly diverse array of wildlife calls this land home. Part of the largest coastal temperate rainforest in the world, the Great Bear Rainforest is one the last untouched places on Earth.
Experience this magical place through the power of IMAX® and the giant screen. Learn about the people who make their home in the Great Bear Rainforest and are committed to preserving and protecting it. Hear how Indigenous youth are coming together and taking responsibility for this place they call home. Go behind the scenes of the production of the film to learn about the incredible challenges of filming in such difficult conditions and feel the wonder that comes from experiencing this wild place.
Author Bio
Ian McAllister is an award-winning photographer and author of numerous books. Ian directed the 2019 IMAX film Great Bear Rainforest and co-wrote the film's tie-in book, Great Bear Rainforest: A Giant Screen Adventure in the Land of the Spirit Bear. A recipient of the North American Nature Photography Association's Vision Award and the Rainforest Action Network's Rainforest Hero Award, he and his wife, Karen, were named by Time magazine "Leaders of the 21st Century" for their efforts to protect British Columbia's endangered rainforest. The founding director of Pacific Wild, a Canadian nonprofit wildlife-conservation group, Ian lives with his family in the heart of the Great Bear Rainforest.
Alex Van Tol grew up reading a wide range of books, from Enid Blyton to Stephen King. She taught middle school for eight years, then made the switch to writing for a living. She has published numerous titles with Orca. Alex lives in Victoria, British Columbia, with her family. For more information, visit www.alexvantol.com.