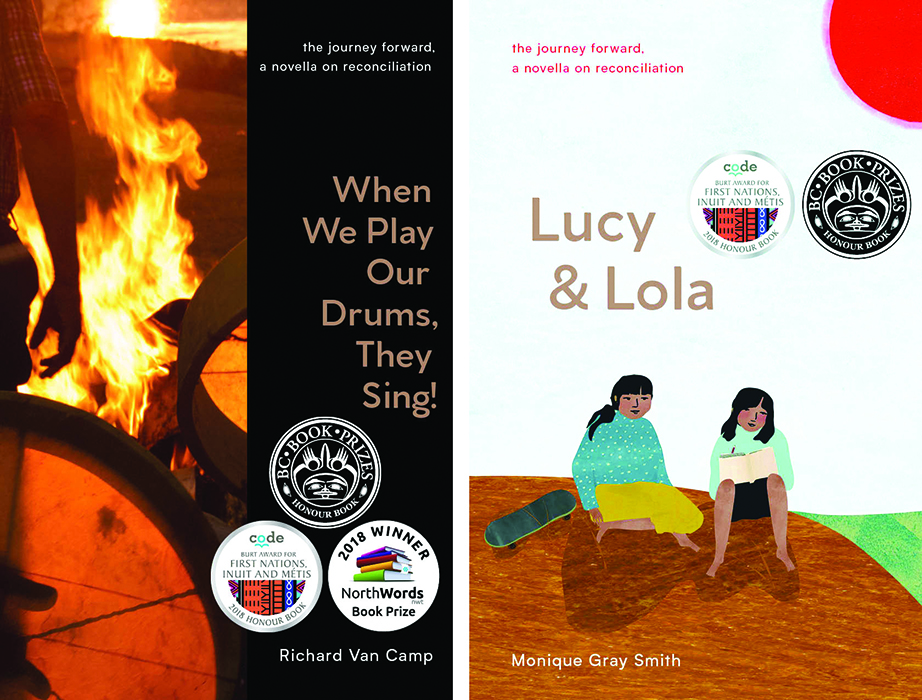 A Novella on Reconciliation
Monique Gray Smith and Richard Van Camp
Publisher: McKellar and Martin Publishing Group Ltd.
Book Description
When We Play Our Drums, They Sing! This the story of 12-year-old Dene Cho, who is angry that his people are losing their language, traditions, and ways of being. Elder Snowbird is there to answer some of Dene Cho's questions, and to share their history including the impact Residential schools continue to have on their people.
Lucy and Lola are 11-year-old twins who are heading to Gabriola Island, BC, to spend the summer with their Kookum (grandmother) while their mother studies for the bar exam. During their time with Kookum, the girls begin to learn about her experiences in being sent — and having to send their mother — to Residential school.
Author Bio
Monique Gray Smith is an award-winning author, international speaker, and sought-after consultant. Her first published novel, Tilly: A Story of Hope and Resilience, won the 2014 Burt Award for First Nation, Métis, and Inuit Literature. Her other titles include My Heart Fills with Happiness, winner of the 2017 Christie Harris BC Book Award for Children's Literature, Speaking our Truth: A Journey of Reconciliation, and You Hold Me Up. 
Richard Van Camp is the author of two children's picture book: A Man Called Raven and What's the Most Beautiful Thing You Know About Horses? Richard is also the author of four board books for babies and young children. His award-winning novel, The Lesser Blessed, is now a feature film with First Generation Films, and his latest novel, Whistle, is about mental health and asking for forgiveness.