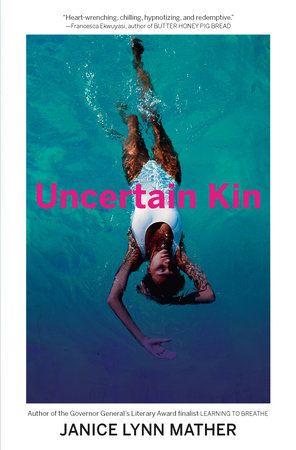 Janice Lynn Mather
Publisher: Doubleday Canada | Penguin Random House Canada
Book Description
From Governor General's Literary Award finalist Janice Lynn Mather comes this mesmerizing collection of linked stories that explores the beauty and brutality of being alive.
Set against the vivid backdrop of The Bahamas, these eighteen luminous and haunting stories introduce us to women and girls searching for certainty and belonging as they navigate profound upheaval. The characters are bold and big-hearted, complex and intimately familiar. They grapple with the bonds of kinship and the responsibilities of parenthood, with grief, longing, betrayal, coming of age and what it means to be a woman.
Little girls disappear from their beds one lush August.
A jogger with a secret diagnosis makes a sinister discovery on the beach.
An island wakes to blood pouring from its taps after a pastor's tirade.
An immigrant mother new to Vancouver struggles to plant roots in a city that doesn't want her or her son.
Tinged with folklore and the surreal, Uncertain Kin is grounded by its emotional richness and breathtaking insight into our relationships with others—and ourselves. This extraordinary collection signals the debut of an important new voice in literature.
Author Bio
Janice Lynn Mather is the author of two acclaimed novels for young adults: Learning to Breathe, which was a finalist for the Governor General's Literary Award, and Facing the Sun, which won the Amy Mathers Teen Book Award. She lives in Vancouver. Uncertain Kin is her adult debut.