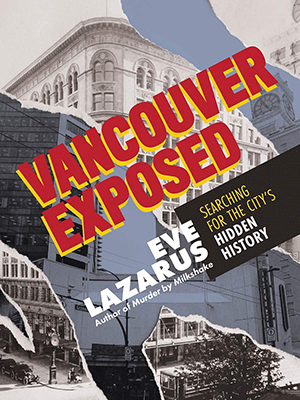 Searching for the City's Hidden History
Eve Lazarus
Publisher: Arsenal Pulp Press

Book Description
As the author of such BC best-sellers as Cold Case Vancouver, Murder by Milkshake, and Sensational Vancouver, Eve Lazarus has become adept at combining her well-honed investigative skills with an abiding love for her adopted city. These qualities are on full display in her latest book, an exploration of Vancouver's hidden past through the city's neighbourhoods, institutions, people, and events.
Vancouver Exposed is a nostalgic romp through the city's past, from buried houses to nudist camps, from belly-flop contests to eccentric museums. Featuring historic black-and-white and colour photographs throughout, the book reveals the true heart of the city: one that is endlessly evolving and always full of surprises.
With equal parts humour and insight, Vancouver Exposed is a vividly entertaining and informative book that pays homage to the Vancouver you never knew existed.
Author Bio
Eve Lazarus is a Vancouver writer and podcaster with an Aussie accent and a passion for true crime stories, cold cases, and non-traditional history. She is the author of four Arsenal titles: Cold Case Vancouver: The City's Most Baffling Unsolved Murders (2015), a BC bestseller and 2016 finalist for the Bill Duthie Booksellers' Choice Award at the BC Book Prizes; Blood, Sweat, and Fear: The Story of Inspector Vance, Vancouver's First Forensic Investigator (2017); Murder by Milkshake: An Astonishing True Story of Adultery, Arsenic, and a Charismatic Killer (2018); and Vancouver Exposed: Searching for the City's Hidden History (2020). She is also the author of Sensational Vancouver (2014), , Sensational Victoria: Bright Lights, Red Lights, Murders, Ghosts & Gardens (2012), and her book At Home with History: The Untold Secrets of Greater Vancouver's Heritage Houses was a 2008 City of Vancouver book award finalist.