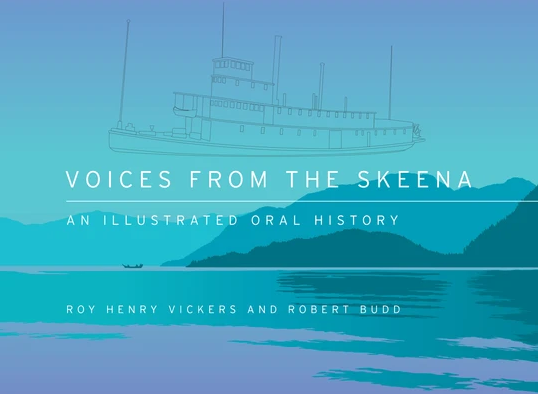 An Illustrated Oral History
Robert Budd and Roy Henry Vickers
Publisher: Harbour Publishing
Book Description
The Skeena, second longest river in the province, remains an icon of British Columbia's northwest. Called Xsien ("water of the clouds") by the Tsimshian and Gitksan, it has always played a vital role in the lives of Indigenous people of the region. Since the 1800s, it has also become home to gold seekers, traders, salmon fishers and other settlers who were drawn by the area's beauty and abundant natural resources.
Voices from the Skeena will take readers on a journey inspired directly by the people who lived there. Combining forty illustrations with text selected from the pioneer interviews CBC radio producer Imbert Orchard recorded in the 1960s, the book follows the arrival of the Europeans and the introduction of the fur trade to the Omineca gold rush and the building of the Grand Trunk Pacific Railroad.
Open the pages to meet Robert Cunningham, an Anglican missionary who would later become the founder of the thriving Port Essington. Here too is a man called Cataline, a packer for whom no settlement was too remote to reach, and the indominable Sarah Glassey, the first woman to pre-empt land in British Columbia. At the heart of these stories is the river, weaving together a narrative of a people and their culture. Pairing the stories with Roy Henry Vicker's vibrant art creates a unique and captivating portrait of British Columbia that will appeal to art lovers and history readers alike.
Author Bio
Robert (Lucky) Budd is the co-author of the Northwest Coast Legends series and the author of Voices of British Columbia (Douglas & McIntyre, 2010), which was shortlisted for the 2011 Bill Duthie Booksellers' Choice Award, and its sequel, Echoes of British Columbia (Harbour Publishing, 2014), which won second prize in the BC Historical Federation's writing competition in 2014. He lives in Victoria, BC.
Roy Henry Vickers is a Canadian Master Artist best known around the world for his limited edition prints. He is also an accomplished carver, design advisor of prestigious public spaces, a sought-after keynote speaker, and publisher and author of several successful books.In addition, he is a recognized leader in the First Nations community, and a tireless spokesperson for recovery from addictions and abuse.