Registrations have closed.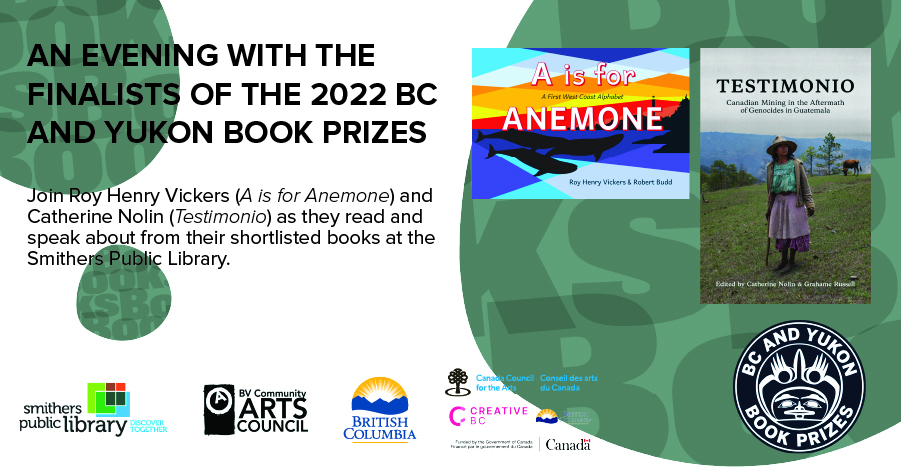 An Evening with Roy Henry Vickers and Catherine Nolin at Smithers Public Library
327
327 people viewed this event.
Join the BC and Yukon Book Prizes and the Nelson Public Library on Tuesday, June 28th at 7pm for an in-person evening with the finalists of the 2022 BC and Yukon Book Prizes.
Roy Henry Vickers (author of A for Anemone) and Catherine Nolin (author and editor of Testimonio) will be reading from their shortlisted books. They will also answer audience questions,
Smithers Public Library is located at 3817 Alfred Ave.
Funding for the this event is thanks to Heritage Canada, Creative BC, the Government of BC and the Canada Council for the Arts. The BC and Yukon Book Prizes is also grateful for the support of community partners like the Smithers Public Library and the Buckley Valley Arts Council.
About the authors:
Roy Henry Vickers is a renowned carver, painter, printmaker and storyteller. He is the illustrator and co-author of Harbour Publishing's popular children's First West Coast Book series and Northwest Coast Legends series, the latter of which were all shortlisted for the Bill Duthie Booksellers' Choice Award: Raven Brings the Light in 2014, Cloudwalker in 2015, Orca Chief in 2016 and Peace Dancer in 2017. His other books include Storyteller (Harbour Publishing, 2014) and Voices from the Skeena (Harbour Publishing, 2019). He lives in Hazelton, BC.
Catherine Nolin (BA, MA, PhD in Geography) is professor and chair of the Department of Geography, Earth and Environmental Sciences at UNBC in Prince George, British Columbia. She is a long-time insurgent researcher and social justice advocate, including more than 25 years grappling with the afterlives of the Guatemalan genocides. Nolin has worked with Grahame Russell of Rights Action for almost 20 years to organize and facilitate field schools to Guatemala for undergraduate and graduate students.