Registrations have closed.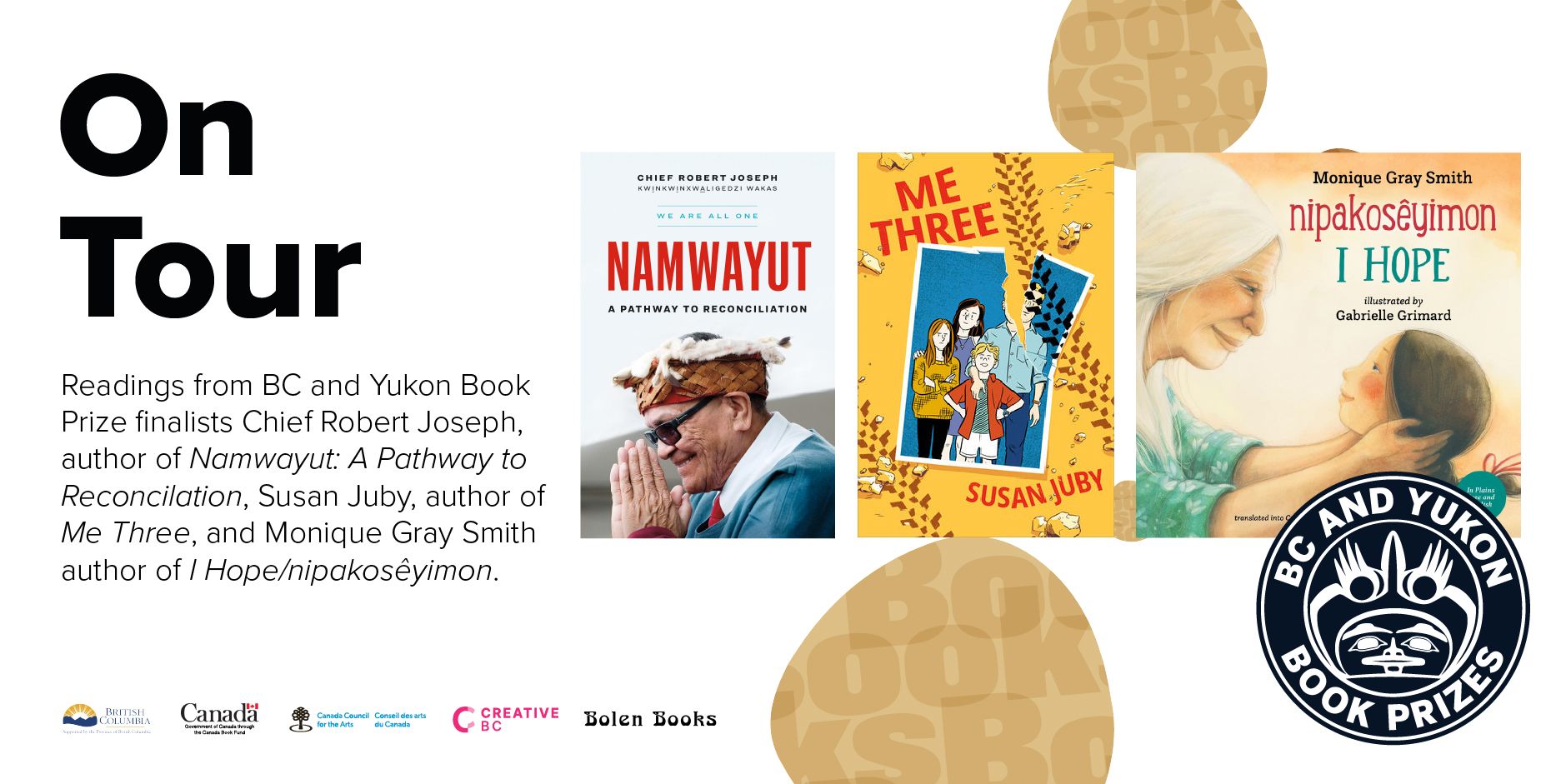 On Tour presents Chief Robert Joseph, Susan Juby and Monique Gray Smith
803
803 people viewed this event.
Join the BC and Yukon Book Prizes and Bolen Books on Tuesday, June 20th at 7pm for an in-person evening with the finalists of the 2023 BC and Yukon Book Prizes.
Chief Robert Joseph (author of Namwayut: We Are All One: A Pathway to Reconciliation), Susan Juby (author of Me Three), and Monique Gray Smith (author of I Hope/nipakosêyimon) will be reading from their shortlisted books.
This is an in-person event and registration is NOT required.
Bolen Books is located in Hillside Shopping Centre at 1644 Hillside Ave #111, Victoria, BC
Funding for this event is thanks to Heritage Canada, Creative BC, the Government of BC and the Canada Council for the Arts. The BC and Yukon Book Prizes is also grateful for the support of community partners like Bolen Books.
About the authors
Chief Dr Robert Joseph, OBC, OC is a Hereditary Chief of the Gwawaenuk People, Ambassador for Reconciliation Canada, Chair of the Native American Leadership Alliance for Peace and Reconciliation, and the 2016 winner of the Indspire Lifetime Achievement Award. He has worked with social change leaders in countries around the globe, including South Africa, Israel, Japan, and the US, was Executive Director of the Indian Residential School Survivors Society, and is an honorary witness to Canada's Truth and Reconciliation Commission.
Susan Juby is the critically acclaimed and award-winning author of eight acclaimed novels for teenagers. Her debut novel, Alice, I Think (the first of the Alice MacLeod trilogy) was made into a successful television series. The Truth Commission was the winner of the Sheila A. Egoff Award, and was shortlisted for several other awards and named to several "Best of" lists. She is also the author of a memoir, Nice Recovery, and the adult comic novels The Woefield Poetry Collective and The Republic of Dirt. Susan Juby lives in Nanaimo, BC, Canada.
Monique Gray Smith is a proud mom of teenage twins, an award-winning, best-selling author and sought after consultant. Monique's most recent novel, Tilly and the Crazy Eights was long listed for Canada Reads 2021.
Monique has 9 books ranging for readers across the life span. Children's books include My Heart Fills with Happiness, You Hold Me Up, When We Are Kind, Lucy and Lola and I Hope. Young Adult and Adult books include Speaking our Truth: A Journey of Reconciliation, Tilly: A Story of Hope and Resilience,  and recently released, Braiding Sweetgrass for Young Adults.
Monique's books are used to share wisdom, knowledge, hope and the important teaching that love is medicine.
Monique is Cree, Lakota and Scottish and has been sober and involved in her healing journey for over 32 years. She is well known for her storytelling, spirit of generosity and focus on resilience.