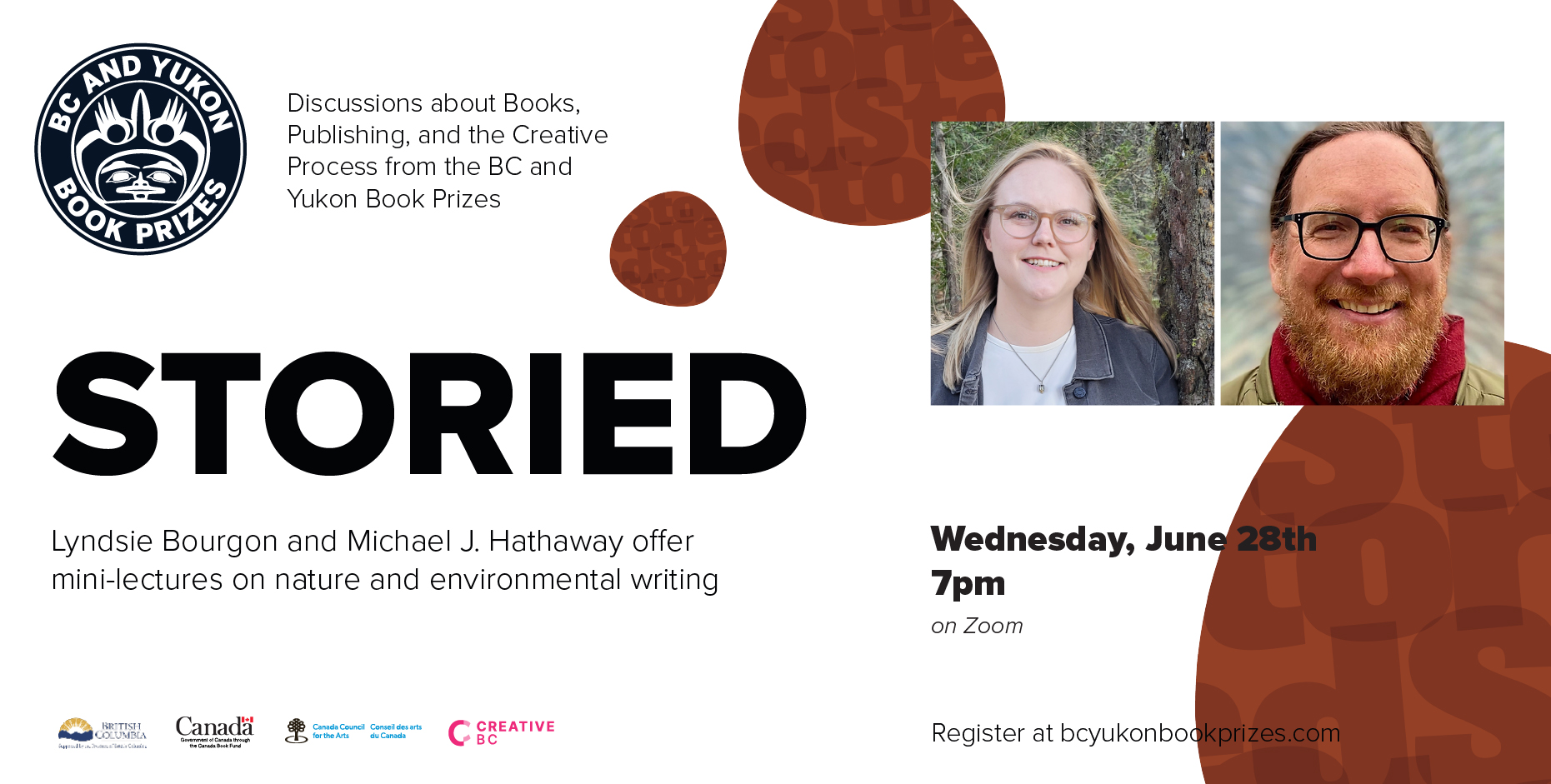 Storied: Nature and Environmental Writing with Lyndsie Bourgon and Michael J. Hathaway
82
82 people viewed this event.
Join the BC and Yukon Book Prizes for Storied: Discussions on Books, Publishing, and the Creative Process.
What goes into a piece of nature or environmental writing? On Wednesday, June 28th, Lyndsie Bourgon and Michael J. Hathaway will give a mini lecture on nature and environmental writing before taking audience questions. Lyndsie Bourgon is the author of Tree Thieves: Crime and Survival in North America's Woods, which is a finalist for the 2023 Hubert Evans Non-Fiction Prize. Michael J. Hathaway's book What a Mushroom Lives For: Matsutake and the Worlds They Make is a finalist for the 2023 Hubert Evans Non-Fiction Prize and the 2023 Jim Deva Prize for Writing that Provokes.
The event begins at 7 pm (PT). It will run for an hour and a half.
This is a free event, but registration is required.
Funding for the Storied Series is thanks to Canada Book Fund, Creative BC, the Government of BC and the Canada Council for the Arts.
About the guests:
Lyndsie Bourgon is a writer, oral historian, and National Geographic Explorer. Her work has appeared in The Atlantic, National Geographic, The Guardian, Smithsonian, and Oxford American. Tree Thieves is her first book.
Michael J. Hathaway is professor of anthropology at Simon Fraser University in Vancouver, Canada, and the author of the award-winning Environmental Winds: Making the Global in Southwest China. He is a member of the Matsutake Worlds Research Group.