Registrations have closed.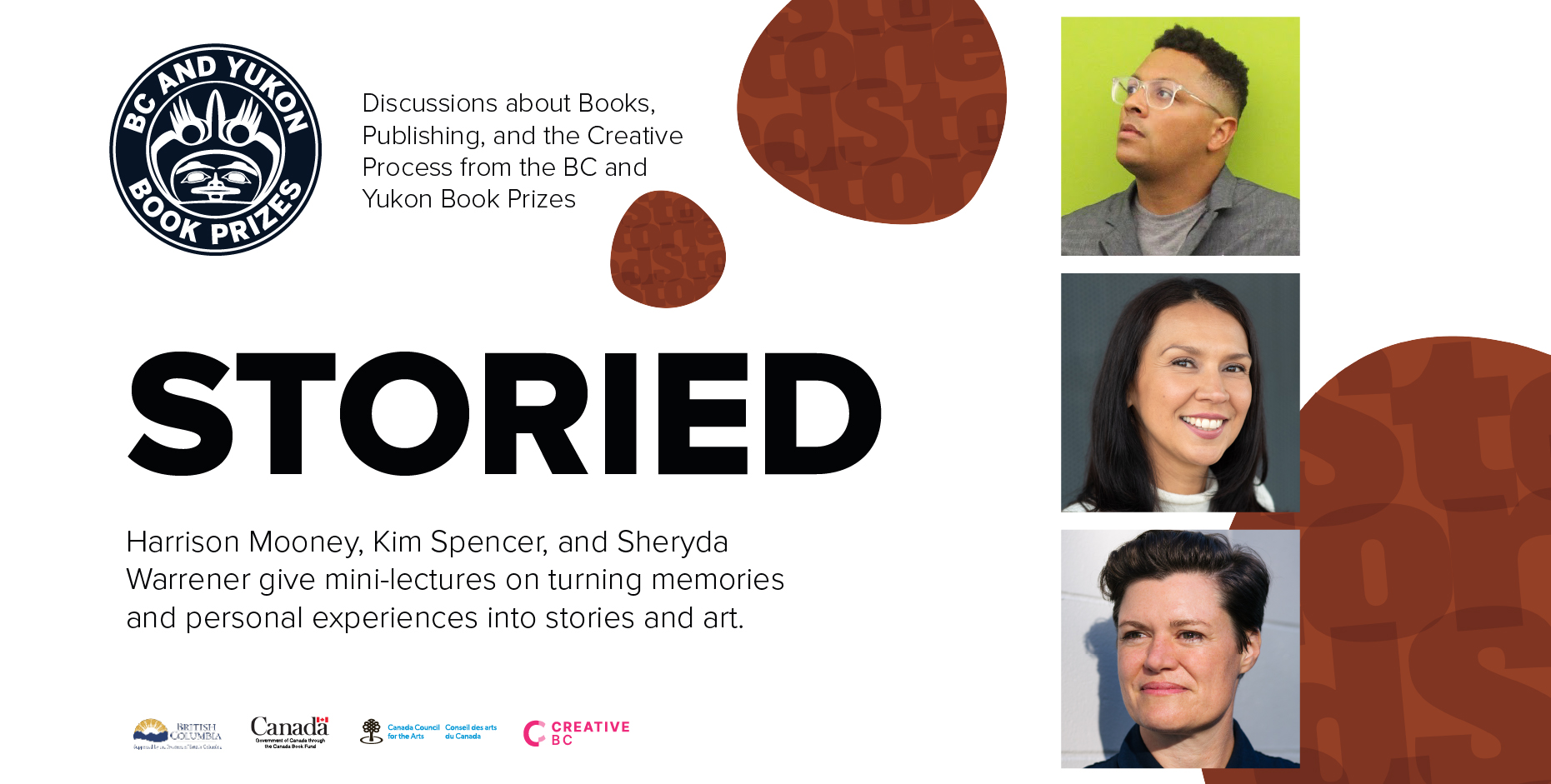 Storied: Turning memories and personal experiences into stories and art with Harrison Mooney, Kim Spencer, and Sheryda Warrener
967
967 people viewed this event.
Join the BC and Yukon Book Prizes for Storied: Discussions on Books, Publishing, and the Creative Process.
On Wednesday, August 30th, Harrison Mooney, Kim Spencer, and Sheryda Warrener will be offering mini-lectures on taking personal experiences and memories and turning them into art and stories for an audience. Harrison Mooney's book Invisible Boy: A memoir of self-discovery is a finalist for the 2023 Jim Deva Prize for Writing that Provokes and the Hubert Evans Non-Fiction Prize. Kim Spencer's book Weird Rules to Follow is a finalist for the 2023 Sheila A. Egoff Children's Literature Prize. Sheryda Warrener's book Test Piece is a finalist for the 2023 Dorothy Livesay Poetry Prize.
The event begins at 7 pm (PT). It will run for an hour and a half.
This is a free event, but registration is required.
Funding for the Storied Series is thanks to Canada Book Fund, Creative BC, the Government of BC and the Canada Council for the Arts.
About the guests:
Harrison Mooney is a writer and journalist. Born to a West African immigrant mother, he was adopted as an infant by a white family and raised in the Bible belt of British Columbia. He has worked for the Vancouver Sun for nearly a decade as a reporter, an editor and a columnist. His writing has also appeared in the National Post, the Guardian, Yahoo and Maclean's. Harrison Mooney lives in East Vancouver with his family.
Kim Spencer is a graduate of the Writers Studio at Simon Fraser University, where she focused on creative nonfiction. Two of her short stories were published in an anthology released through SFU, and an experimental short story of hers appeared in Filling Station magazine and was shortlisted for the Alberta Magazine Publishers Association Award. Kim was selected as a mentee by the Writers Union of Canada for BIPOC Writers Connect, as well as for ECW's BIPOC Writers Mentorship Program. Her first novel, Weird Rules to Follow debuted on the BC Bestsellers list, received a Kirkus starred review and was named a USBBY 2023 Outstanding International Book. Kim is from the Ts'msyen Nation in northwest BC and currently lives in Vancouver, British Columbia.
Sheryda Warrener is the author of the poetry collections Hard Feelings (Snare, 2010) and Floating is Everything (Nightwood, 2015). Her work can be found in Event, The Fiddlehead, Grain, Hazlitt, and The Believer, among other literary journals. She is a recipient of The Puritan's Thomas Morton Memorial Prize for poetry, and recent poems have been selected for Best Canadian Poetry, The Next Wave: An Anthology of 21st Century Canadian Poetry, and the 2020 CBC Poetry Prize longlist. Sheryda lives in Vancouver BC with her son and partner, and teaches poetry and interdisciplinary forms in the School of Creative Writing at UBC.