Registrations have closed.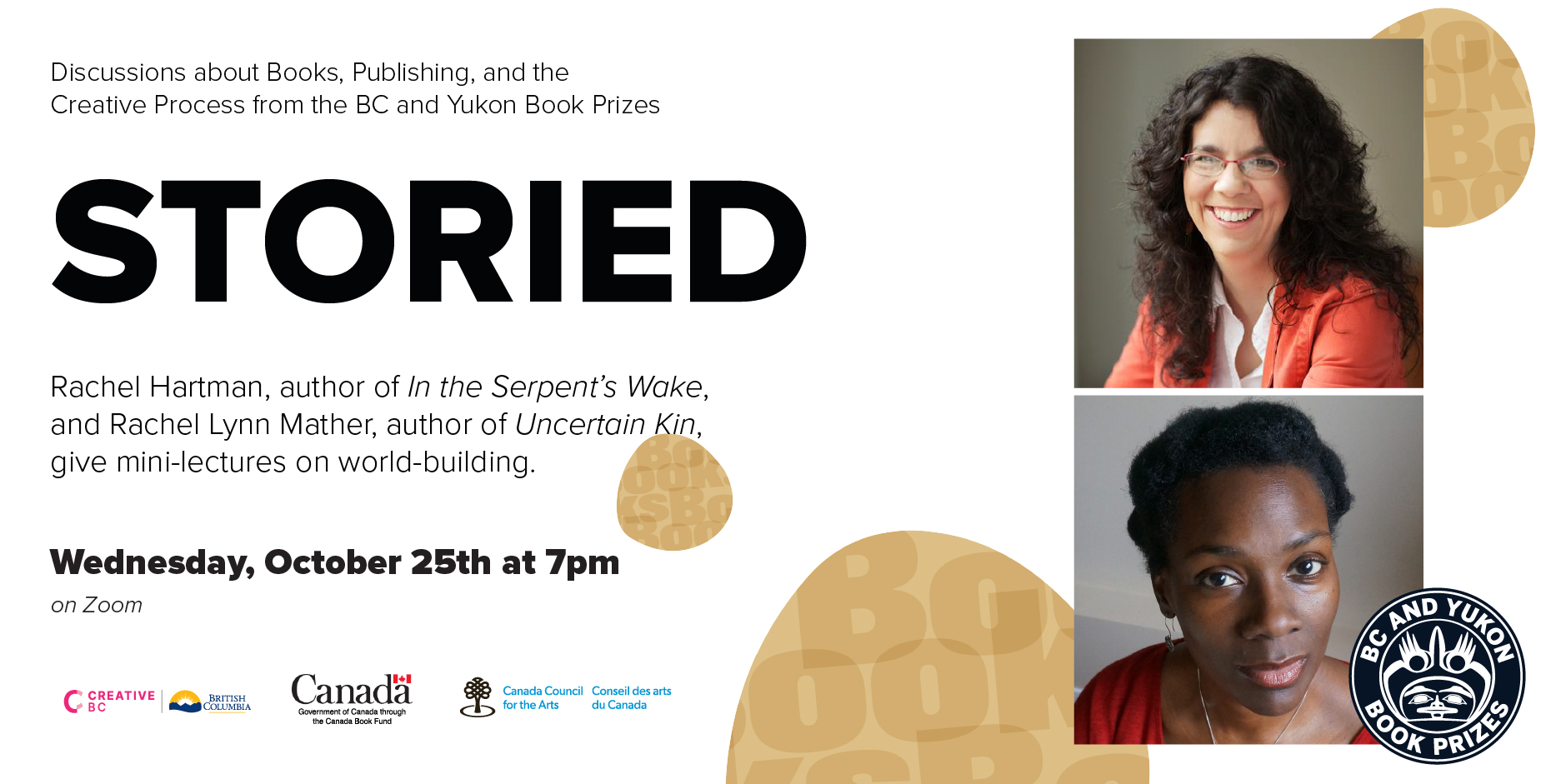 Storied: World-building with Rachel Hartman and Janice Lynn Mather
401
401 people viewed this event.
Join the BC and Yukon Book Prizes for Storied: Discussions on Books, Publishing, and the Creative Process.
On Wednesday, October 25th, Rachel Hartman and Janice Lynn Mather will be offering mini-lectures on world-building. Rachel Hartman's book In the Serpent's Wake is the winner of the 2023 Sheila A. Egoff Children's Literature Prize. Janice Lynn Mather's book Uncertain Kin is a finalist for the 2023 Ethel Wilson Fiction Prize.
The event begins at 7 pm (PT). It will run for an hour.
This is a free event, but registration is required.
Funding for the Storied Series is thanks to Canada Book Fund, Creative BC, the Government of BC and the Canada Council for the Arts.
About the guests:
Rachel Hartman was born in Kentucky, but has lived a variety of places including Chicago, Philadelphia, St. Louis, England, and Japan. She has a BA in Comparative Literature, although she insists it should have been a BS because her undergraduate thesis was called "Paradox and Parody in Don Quixote and the satires of Lucian." She eschewed graduate school in favor of drawing comic books. She now lives in Vancouver, BC, with her family, their whippet, and a talking frog and salamander.
Rachel Hartman is the recipient of the 2013 William C. Morris YA Debut Award which honors a debut book published by a first-time author writing for teens and celebrating impressive new voices in young adult literature.
Janice Lynn Mather is the author of two acclaimed novels for young adults: Learning to Breathe, which was a finalist for the Governor General's Literary Award, and Facing the Sun, which won the Amy Mathers Teen Book Award. She lives in Vancouver. Uncertain Kin is her adult debut.