Registrations have closed.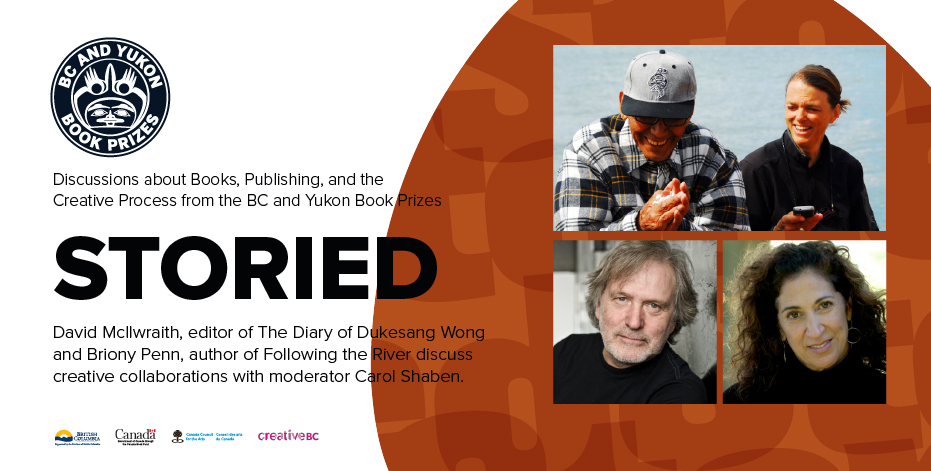 Creative Collaborations with Briony Penn and David McIlwraith, moderated by Carol Shaben
939
939 people viewed this event.
Join the BC and Yukon Book Prizes for Storied: Discussions on Books, Publishing and the Creative Process.
On Wednesday, October 27th, 2021, BC and Yukon Book Prize finalists Briony Penn, author of Following the Good River: The Life and Times of Wa'xaid and David McIlwraith, editor of The Diary of Dukesang Wong: A Voice from Gold Mountain will discuss creative collaborations and working on books with other creators and writers with moderator Carol Shaben, co-author of The Marriott Cell: An Epic Journey from Cairo's Scorpion Prison to Freedom.
The event will begin at 7pm and finishes at 8pm.
This is a free event but registration is required. To register visit: https://us02web.zoom.us/meeting/register/tZItd-ihpzwiGtdEL3H1ZNwGHCAlV26ou3Sx
Funding for the Storied Series is thanks to Heritage Canada, Creative BC, the Government of BC and the Canada Council for the Arts.
About the panelists and moderator:
A naturalist, geographer and nature columnist for 25 years, Briony Penn is a multi-BC and Yukon Book Prize finalist and winner for her books about the coast, its diversity of inhabitants and their deep connections to one another. She lives on W̱SÁNEĆ territory on Salt Spring Island.
David McIlwraith spent a decade searching for, editing, and researching the only known first person account of the Chinese experience building transcontinental railways across this continent. His recent book, The Diary of Dukesang Wong tells a one-of-a-kind, fifty year long story of a man's extraordinary life in China and Canada. McIlwraith began telling stories as an actor and director in theatres across North America, then as a documentary film-maker, writing and directing award nominated films like 'The Lynching of Louie Sam' and 'Celesta Found'. He was the host and contributing writer/producer of the Discovery Channel series, Harrowsmith Country Life. Since the publication of Wong's diary by Vancouver's Talonbooks, McIlwraith has turned his hand to fiction. He was a Vancouver resident for several years and now lives in Hamilton, Ontario. He spends part of every summer on Salt Spring Island.
Carol Shaben is an award-winning author and journalist. Her first book, Into the Abyss, was a national bestseller and national nonfiction award winner, and her most recent book, The Marriott Cell, ­co-written with journalist Mohamed Fahmy, was long listed for the 2018 RBC Taylor Prize and named one of The Globe & Mail's 100 Best Books of the Year. She is the recipient of two National Magazine Awards including a Gold Medal for Investigative Journalism. Carol teaches creative/literary nonfiction at UBC's Schools of Creative Writing and Journalism, and is a Faculty Editor for the Banff Centre's Literary Journalism Program.